NurturMe Dried Baby Food
NurturMe's Caroline Freedman: An Easy Way to Get Lil Ones to Eat Their Fruits and Veggies!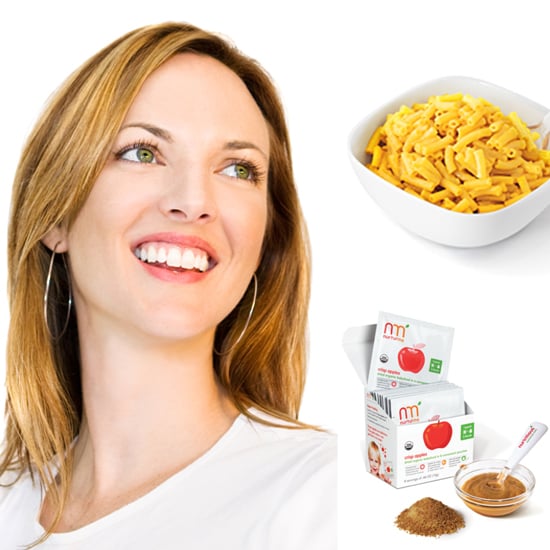 As a soon-to-be first-time mom, a pregnant Caroline Freedman was obsessed with all things baby (sound familiar?), including what she would eventually feed her new lil one once she advanced past breast milk and bottles. "I was shocked at how little innovation there had been since I was a baby. It was still Gerber jarred foods," says Austin, TX-based Freedman, now mom to a 3-year-old and a 4-month-old. "Considering how parents are eating a lot differently now, it seemed so out of sync."
Freedman, along with her business partner Lauren McCullough (a former culinary arts teacher) decided to do something about the discrepancy. The result: NurturMe, the first certified organic, all-natural, gluten-free baby food made from quick-dried fruits and veggies. If a dehydrated baby food isn't inventive enough — each pouch is light as a feather and makes about 2.5 ounces of baby food when mixed with water, breast milk, or formula — NurturMe has yet another selling point: it's also an easy way to sneak fruits and veggies into older tots' meals. Keep reading for more from our interview with Freedman.
LilSugar: It's so cool that NurturMe is really a transitional kid food, working for babies and older kids. Can you explain how it works?
Caroline Freedman: We currently have six flavors — freeze-dried peas and drum-dried carrots, sweet potatoes, squash, apples, and bananas. The drying process really preserves the flavor, color, and texture of the food. They work a lot like rice cereal. You mix them with a liquid, and you can control the consistency depending on how much you add. As your baby grows, you can move from a puree to a thicker consistency and mix and match flavors. Then, when they've outgrown purees, you can add them to pastas, yogurt, etc . . . When we started going out to grocery stores to introduce customers to the product, we were really surprised to find that parents were most interested in using it to mix into recipes. So many of us have finicky toddlers who won't eat anything but mac and cheese, and this is a way to get some veggies in their diet — that's what parents get excited about.
LS: Do you have plans to add more flavors to the line?
CF: We'd like to build out the line; we've thought about introducing a grain. NurturMe is a really similar concept to rice cereal, but there's been a little backlash against rice cereal as a baby's first food. We'd like to make a healthful grain, like quinoa.
LS: You are very eco-conscious as well, right?
CF: Yes, our product is eco-friendly. It's lightweight to ship, so we leave a smaller carbon footprint, and everything is recyclable. There's a thin foil lining inside the paper sleeve and that's the only piece that's not biodegradable. There's a huge trend from our organic competitors toward those plastic squeeze-tube packages, which are not recyclable. It's a cool concept, but that new packaging is a step backwards environmentally.