Nut-Free Broccoli Pesto Pasta
Healthy Dinner: Nut-Free Broccoli Pesto Pasta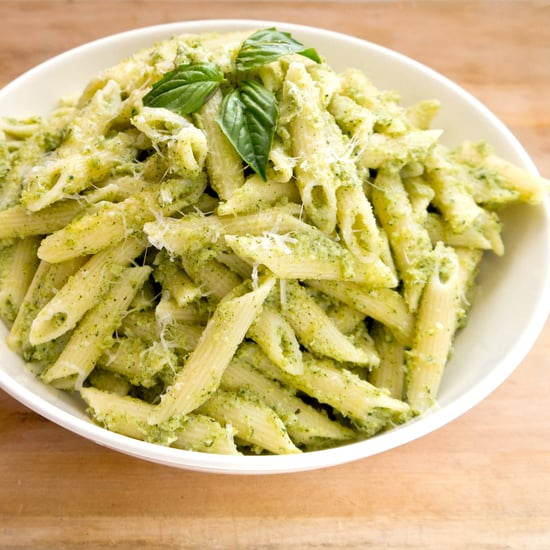 Pesto is a fun way to sneak veggies into a child's diet without them ever suspecting that what they're eating is healthy. For this flavorful pesto, we use broccoli as the base and leave out the pine nuts to make it safe for kids with allergies. One cup of broccoli contains the recommended daily amount of vitamin C boosting the body's immune system and helping to fight off the common cold, and is also packed with potassium, which benefits the development of your growing tot's nervous system. With a pop of fresh basil and lots of Parmesan cheese, this dish has a mild flavor that won't have kids turning up their noses.
Nut-Free Broccoli Pesto Pasta
From Sarah Lipoff, LilSugar
Ingredients
4 cups chopped broccoli (about 1 large head)
1 garlic clove
4-6 large basil leaves
1/4 teaspoon salt
1 tablespoon olive oil
1/4 cup water
1/4 teaspoon fresh lemon juice
1/4 cup Parmesan cheese
1 pound cooked pasta
Directions
Fill a large stock pot with water and place over medium-high heat for boiling the pasta. While waiting for it to bubble, invite your child to help break or cut apart the head of broccoli with a butter knife and place in a large saucepan.
Chop the garlic and add to the saucepan with the broccoli. Add enough water to cover the bottom of the pan, cover, and place over medium heat until the broccoli is fork tender.
Once steamed, strain the broccoli and place in a blender along with the basil leaves, salt, olive oil, and water. Invite your child to help press the buttons to pulse the pesto together. If needed, add an additional tablespoon of water to thin the sauce. This step can also be done with a hand blender.
Place the blended broccoli in a large bowl, add the lemon, and then stir in the Parmesan cheese. Taste the sauce for seasoning and add to your family's taste. Squeeze in more lemon, add a dash of pepper, or sprinkle with a pinch of chopped basil.
Once the pasta is cooked to your liking, strain and add to the pesto. Stir and then serve with an additional drizzle of olive oil.
Makes six large servings.
Information
Category

Pasta/Noodle, Side Dishes

Cuisine

North American