The Odd Life of Timothy Green Interview With Jennifer Garner
Jennifer Garner Sees Her Future on The Odd Life of Timothy Green Set
Though she's a mother of three, Jennifer Garner is familiar with playing fertility-challenged characters. In The Odd Life of Timothy Green, the whimsical Disney tearjerker that hits theaters on Aug. 15, Garner revisits the issue, starring as Cindy Green; she also played an infertile character in Juno). When Cindy and her husband, Jim, played by the serious but endearing Joel Edgerton, learn they've exhausted their options for conceiving a child on their own, they give themselves one last night — and a bottle of wine — to dream of the child they can only desire. They write their dream child's characteristics on pieces of paper and bury them in the garden. When a child exhibiting all of those characteristics miraculously arrives on their doorstep, they must quickly adapt to parenthood while hiding their new child's secret.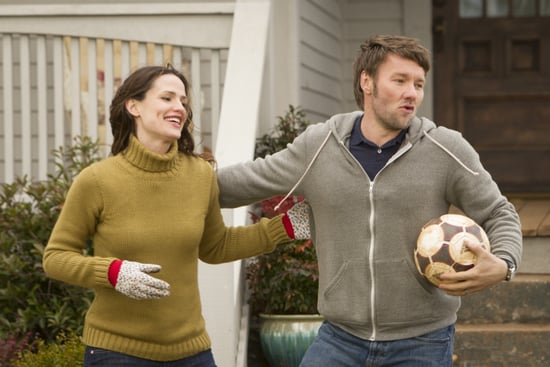 A year and a half ago, I had the opportunity to visit the movie's suburban Atlanta set with two other reporters to chat with stars Garner and Edgerton and director Peter Hedges (Dan in Real Life, What's Eating Gilbert Grape). While we thoroughly discussed Garner's decision to take on such an emotionally charged role, we couldn't help but ask about motherhood and the possibility of adding a third child to her famous Hollywood family. In addition to interviewing the actors and director, we also watched, and served as extras, in a scene as it was filmed.
Read on for some of the best quotes from the set visit (and stay tuned for more in the coming days) after the jump.
This is your second film that's dealt with infertility. What draws you to these roles?
Jennifer Garner: I think the need to become a mother is . . . those are pretty high stakes to play. And it's something that I certainly understand although I've been really lucky in that way. I haven't struggled with fertility. But I do understand that hunger for it.
Why do you think fellow moms — who aren't famous — feel like they can relate to you so easily?
JG: While I find it very kind, and I love that women who have kids relate to me, I find that I am by far the messiest, sloppiest, craziest! All the moms I ever see always look very put together and I just don't get it. I don't see how they do it! But then again, I would look that way if I didn't have kids too probably.
Joel Edgerton: As someone who is relatively close with Jennifer, I mean, I've spent a lot of time with her, it's easy to see where her priorities lie, just in terms of conversations we've had. I love her kids! Sera is one of my favorite people ever. But the amount Jennifer puts into considering her kids in perspective of her career I think is quite rare. There's a lot of people who would profess to say . . . I think a lot of people make a lot of noise in the press and say, "I would just give up my career, and never work again because of my kids." Some people are a little full of hot air about that, but I really think with Jennifer the priority is with her family and her kids.
Where do you draw inspiration in playing a father?
JE: I've played so many fathers in the past five years. In fact, this is the second film I've done that deals with infertility. I did a film shot in Calcutta called The Waiting City, which was about a couple that go to pick up their adopted child. I love kids. I don't have any, and in the last handful of movies I have one or two kids or I'm expecting a kid. I'm very aware that my relationship with a child is very much like a grandfather's relationship with a child. That I can just be there for the fun of it. I don't have to go through all the hard stuff that I enjoy hearing from Jen.
In the movie, you write down characteristics you want your child to have. If you could pick three characteristics from you and your husband, what would they be?
JG: Curiosity. Ben's curiosity. Just for their sake, I kind of came out happy and am just built that way and I wish that for them. The ability to see and understand other people and that means treating them well and putting them first and knowing where you fit in the group.
JE: I would love a child who is good-natured in that they were kind and honest. Kindness is very important. Honesty is very important and strength. Strength in discernment and intelligence would be very important to me. And I'd name you a dozen other qualities.
How often do you seek advice from other moms?
JG: What do you think this is (holding up her BlackBerry)! All day every day! Well yeah, I have different kinds of things. I have a couple of celebrity mom friends that I go to for certain things that only they can — only we can talk about! But mostly I talk to my friends, my mom friends from Violet's school. And we just gab away like anyone. But pretty much I hang up from one mom friend and call another.
As the mother of two girls, do you ever get pressure to "go for the boy"?
JG: I really would think that Ben would pressure me, and as a matter of fact, he used to in theory, but now it would be more me that would like . . . because I have two sisters. I love my girls and he says, "I like girls and only want girls. I'm not messing with it. Girls!"
Source: Walt Disney Studios Motion Pictures