Oeuf Kid Accessories For Christmas
Oeuf Porcelain Brooches: Kid-Friendly or Are You Kidding?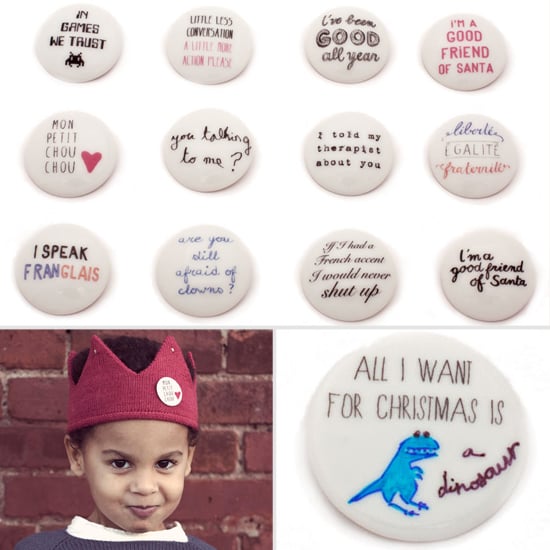 If you haven't noticed, we're pretty much obsessed with all things Oeuf. The baby and kids' clothing and accessories, the furniture, the founders' home . . . all are perfection. But we haven't quite made up our mind about Oeuf's latest holiday offering: a collection of quirky porcelain brooches.
Handmade from France's famous Limoges porcelain, the brooches ($22-$26) come in three sizes and all feature fun sayings for kids of all ages. Go for a silly saying like "cereal killer" or "you talking to me?" or express your inner Francophile with brooches bearing phrases like "if I had a French accent I would never shut up" and "I speak Franglais." Holiday offerings include brooches saying "I've been good all year" and "I'm a good friend of Santa," along with the design-your-own large brooch, which has "all I want for Christmas is" on top with space below to draw your gift of choice. So what do you think of Oeuf's new brooches? Do they make the perfect kid-cessory, or will you be sticking to old-school buttons? Weigh in below.