Oogieloves Movie For Preschoolers
Is Oogieloves the Beginning of a Kids' Flicks Revolution?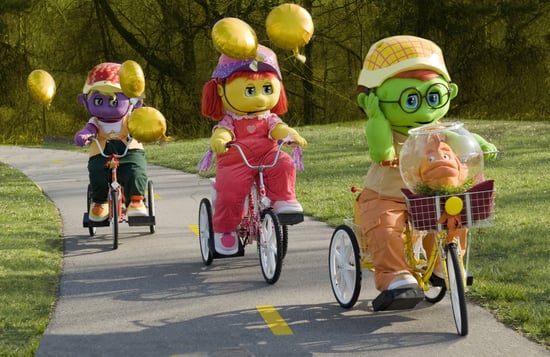 If you blinked this Summer, you might have missed the promos for The Oogieloves in the Big Balloon Adventure, one of the first preschooler-aimed movies to ever hit theaters nationwide. Created by Kenn Viselman, the man who brought Teletubbies and Thomas the Tank Engine & Friends to America, the film was created specifically for 3- to 5-year-olds as an alternative to the "fast-paced, pop-reference-packed PG movies like Madagascar and Kung Fu Panda."
To do so, the film is turning the theater into an interactive experience with the three costumed main characters encouraging tots and their parents to get up and dance at various parts in the flick (before the song and dance numbers, butterflies appear on screen with a message — "It's Time to Get Out of Your Seats!"). Though the characters are supported by a cast of guest stars designed to appeal to adults — Cloris Leachman, Christopher Lloyd, Toni Braxton, Cary Elwes, Jaime Pressly, and Chazz Palminteri — so far, Oogieloves has been met with mixed reactions as theatergoers who are used to remaining quiet and seated in a theater are having a hard time adjusting to this new type of experience.