Organic Toddler Food
Happy Baby and Sprout Want to Feed Your Toddlers Organic Meals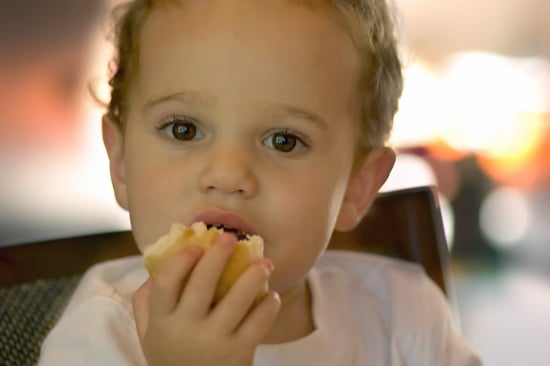 Organic baby food pouches are so last year! Since the healthy, squeezable packets of baby purees first caused a ripple on playgrounds in 2010, the baby pouch has quickly become the go-to baby food choice for mamas who want the best, but just don't have time to cook up their own purees.
Now, two of the first baby food pouch creators are setting their sites on tots who've moved beyond second and third stage purees. Both Sprout and Happy Baby are introducing heat-and-eat organic toddler meals this Spring, and lil ones everywhere should be rejoicing! Here's a quick rundown of what the two are serving up!
Happy Baby The company that brought us the first organic puffs and an organic Thanksgiving meal in a pouch is creating four HappyTot Toddler Meal Bowls ($3.19 each) packed with protein and vitamin A. Using 100 percent organic vegetables, whole grains, and meats, the HappyTot line includes combinations such as Chicken, Vegetable, and Quinoa, as well as the more familiar Vegetable Ravioli. Each cup-sized serving comes precooked in BPA-free packaging that only needs to be heated for a minute in the microwave before it's ready to eat.





Sprout Tyler Florence told us that he was considering opening a Sprout café where moms and babies could stock up on food for a few days, but now he's done one better. Sprout Organic Toddler Meals ($3.49 each) begin where the Food Network chef's baby purees end, continuing his tradition of combining great but unusual flavor concoctions that kids can't wolf down fast enough. The ready-to-microwave, BPA-free trays bring together veggies, fruits, legumes, spices, and meats for eight meals, such as Macaroni and Cheese With Butternut Squash and Sweet Potato and Apple Risotto With Turkey. So while you might not have a sitter so you can go out and enjoy the chef's Wayfare Tavern, your lil one can gobble up his recipes in the comfort of your own home.
Source: Flickr User CarbonNYC