Pacifiers For Toddlers
Who Says a 3-Year-Old Can't Use a Pacifier?
Here's a post from our partners at BabyCenter! Every week, we bring you the best parenting and lifestyle stories from the experts at BabyCenter, including this post from Andrea Updike about toddlers using pacifiers.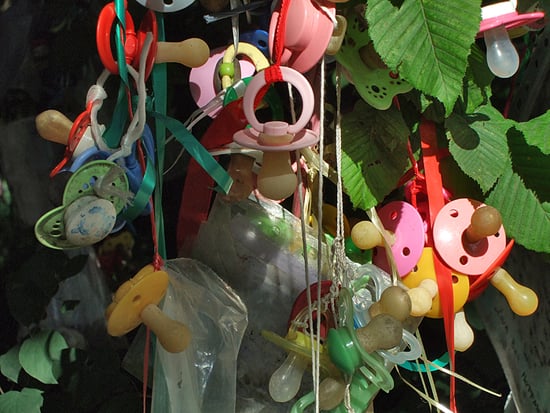 I have a confession to make. My 3-year-old uses a pacifier when he sleeps. Also? I have no intention of taking it away.
We've all seen the pictures of Suri Cruise with her pacifier/bottle/high heels and made our judgments. We all think we will do things a certain way before we have kids. And we all find our own system that works that is somewhere between total control and total anarchy. Today? I am standing up for sleep. And for our family, that means the paci stays.
Related: What's Up With Big Babies?
My son sleeps. He sleeps well. He sleeps with a paci. Last year, we decided to drop the paci. We ceremoniously said good-bye, and he even (quite bravely) threw it in the garbage all by himself. That night he went right to sleep without a second thought. I was victorious. I was proud. I even blogged about it.
I was arrogant.
Not two days later, he stopped napping. Like, as in completely. He went from three-hour naps to nonstop chatter. I turned to Google to find out if he was ready to drop the nap. Post after post appeared saying that children dropped naps about the same time they dropped pacifiers. I knew the paci would be back.
Thankfully, I am really good at eating my words.
I marched myself right out to the store and purchased not one, but two new pacifiers. We named them "bedtime pacis" and told Oscar that they had to live in his bed. He gladly accepted those terms and is back to nice, long afternoon naps!
Of course, I worried that I would ruin his teeth forever, but my pediatrician gave me the OK, saying that he isn't really sucking on it in his sleep, so it doesn't cause the issues that might take place if he had it during waking hours. And that was all I needed to hear about that.
My name is Andrea Updyke, and I am proud of my pacifier-using 3-year-old.
When did your child drop the paci?
More great reads from BabyCenter:
Eight teacher appreciation gifts you can make
The 10 commandments of dance moms
Celebrate Earth Day with a neighborhood party
Twenty Cinco de Mayo ideas to get your fiesta on
Six warning signs of bogus parenting advice
Source: Flickr User KitchenDesigner