Painter's Palette Appetizer Platter
This Month's Cookbook Food Challenge Winner: Joanna Sargent!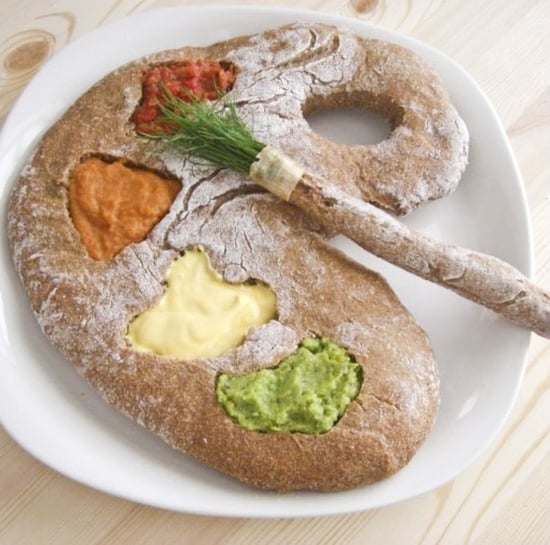 Congratulations to this month's winner of the Cookbook's Blogger Food Challenge, Joanna Sargent of Go Ahead and Snicker. Her whimsical and artsy recipe will not only give your guests something tasty to snack on at your next party, but it will also inspire smiles!
Keep reading for the delicious recipe!
Joanna's Painter's Palette Appetizer Platter

Joanna Sargent
Notes
This appetizer platter recipe brings together everything that's important to me right now: a fun approach to healthy eating, a creative mix of food and play, and the importance of sharing and bonding as a family. It seems like a lot of work, but you can cut the time in half by using store bought hummus, yogurt, or dressings. Try anything bright!
Ingredients
Bread:
1.5 c. lukewarm water
2 cups hot water, set aside
1 envelope of active yeast
1/2 tbls. kosher salt
3.5 c. whole wheat flour
Red: Roasted Red Pepper Tapenade
Yellow: Lemon Hummus or yogurt
Orange: Pumpkin Dip
Green: Guacamole
Directions
In a large Tupperware container, mix 1.5 cups of lukewarm water with 1 envelope of yeast and 1/2 Tbls. of kosher salt.
Add 3.5 cups of whole wheat flour, mixing well with a wooden spoon until all flour is combined and dough is sticky.
Cover with a towel and let rise in a dry, warm room for 3-5 hours or until dough doubles in size.
When you are ready to bake, preheat oven to 450 degrees. I recommend a pizza stone, but if you don't have one you could do it on a baking sheet instead. If using the stone, put it in the oven now. Place a roasting pan on the bottom rack of your oven.
Dust your work surface (I do this right on a pizza peel because I then transfer it to a pizza stone, but you can shape it right on the baking sheet if that is what you have) and hands with flour. Cut 3/4 of the dough from the container, and shape it into a crescent like a painter's palette. Cut a circle from one side for the thumb hole.
Shape remaining dough into a rod for the paint brush and any other shape you'd like (I used extra dough to make little baguettes for dipping).
Slide dough shapes onto pizza stone or put baking sheet in oven.
Pour 2 cups of hot water into the roasting pan and shut the oven door to catch steam. Watch out for hot steam when you do this because it burns like a mother!
Place in oven and bake for 30 minutes or until crusty and browned. (You may need to take smaller shapes out earlier, so keep an eye on them!)
Cool completely.
Cut organic paint shapes from the palette using a serrated knife and dig out a little bowl for your dips. Save any bread that you pull out; you'll need it later 'cause it makes good eats!
Spoon dips into each little bowl and serve with veggies and the extra bread. When you run out of dippers you can just start tearing your palette into delicious little pieces!
Information
Category

Dips, Appetizers

Cuisine

North American