Pampers by Cynthia Rowley Review
Pampers by Cynthia Rowley Are Perfect For Diaper Cakes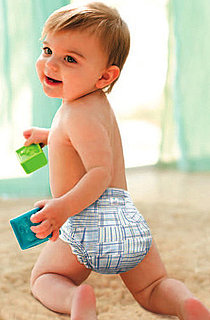 Diapers don't get any cuter than Pampers by Cynthia Rowley, but how do they compare to the brand's regular premium product? The company recently sent me some to put to the test. Sold at Target, the jumbo pack costs $15.
Who is this product designed for?: The diapers are designed for style-minded moms who want their babies to have the hottest, most fashionable, disposable nappy on the market.
What sets it apart?: The collection has 11 designs for boys and girls including madras, stripes, gingham, and ruffle prints. Some styles even have faux pockets.
What could be better?: The price! The Pampers by Cynthia Rowley Cruisers are only sold in sizes 3 (26 count) and 4 (23 count) for $15, which works out to be 57 cents and 65 cents per diaper. The mainstream Cruisers retail for $11 in sizes 3 (31 count) and 4 (27 count), which breaks down to 35 cents and 40 cents per diaper. Both are great quality, didn't leak, and absorbed the moisture away from the baby's skin.
Would you buy it?: Yes, but with conditions. While the diapers are darling, my lil guy goes through at least six per day so it's not the most economical choice. The designer Pampers are also sold exclusively at Target and on the retailer's website. They aren't widely available.
Would you give it as a gift?: Yes. They are the perfect ingredient for making a diaper cake, and any new mom would probably love a pack for her kiddo.