Parenting With Ex
4 Tips For Co-Parenting With Your Ex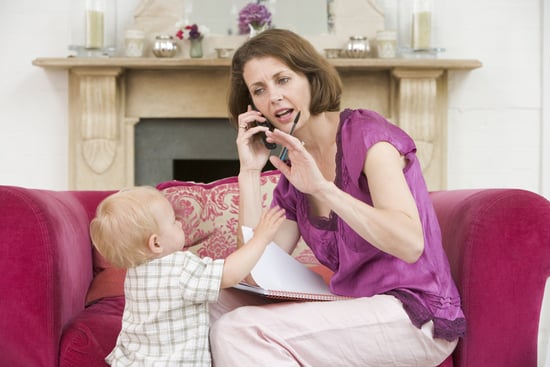 Whether married or not, providing positive parental guidance for your children can be challenging. And when you're divorced or separated, it's only natural to find agreeing on a unified approach to parenting to be an even more difficult task.
Many moms want to follow Jenny J.'s recommendation to have a "civil co-parenting relationship," which will help the kids "do better and be better adjusted." But if you couldn't agree on anything while you were married, "how do you help your kids with a divorce while you hate their father?" Vicki M. asks. Similarly, Circle of Moms member Lisa G. says she has been separated for seven years, and she and her ex still "cannot be civil about things." Still, she believes both of them need to provide consistent rules for their daughter.
If you, too, are finding it challenging to agree on how to parent with your ex, consider the following four tips, suggested by Circle of Moms members who say they consistently communicate well — despite being separated.
Keep reading.
1. Put Your Emotions Aside
When trying to reach an agreement on how to co-parent your child, communication is key, Circle of Moms members say. Consequently, it's important for the sake of your children to put aside any ill will you may feel toward the other person. You are both parents, so you should always "keep communication open between you and your ex when it comes to things that affect the children," Gerri F. says. "Regardless of what you feel for your ex-spouse, they always will be the other parent. Keeping that in mind can help with some of the resentment that is naturally felt with divorce." 
When you are divorced or separated, "it's safe to say that you and [your former significant other] cannot stand each other," says Emily B. "Well like it or not, you are forever stuck together."
To ease communication, Emily first suggests you stop calling the other person your "ex"; after all, he or she is your child's parent. Secondly, she recommends you never fight or trash talk when your kids are listening. "They are always listening!" she says.
If an argument arises, "be agreeable and kill him with kindness," she continues. "My daughter's dad and [I] fought like cats and dogs in the beginning, but now I would call us friends." And if your ex is dating another person, then be nice to that person too, Emily adds. "Remember, if something happens to you, they will be the ones to carry on your memory with your kids," she explains. 
"As parents, one of the best ways we can teach our children is to be a positive role model, [and] part of that includes being civil and polite even if we don't necessarily like [someone] very much," Nikki S. says.
Joy, for example, says she sees her brother and sister-in-law trying to be positive toward one another, even buying Christmas gifts for their exes on behalf of the kids. "By continuing to do it for [the] ex, [they] are teaching a few valuable lessons: a) respect and manners; b) tolerance; and c) to think of others (whether you like them or not)," she says. 
Soleil R. adds: "As long as your former partner is not hurting your kids, suck it up and learn how to make the new family work . . . because you are still family and you always will be . . . If you're lucky, pretending to get along will turn into actually getting along."  Keep reading for more tips.
2. Text and Email
Chrissy C. maintains positive communication with her ex-husband, calling him at least two times per week about what the children are up to. However, when verbal communication is difficult, then several Circle of Moms members recommend electronic means.
For instance, Yeukai M. says if it's too soon after a separation, parents might find SMSs and text messages work better. "As time goes on and the anger and emotions go away, you can call each other and discuss issues about your kids," she says. Even if you communicate electronically, "it's important that you have the same stance on issues such as discipline and the like. You don't want the kids to manipulate the parents."
Amanda C. says her daughter's father never calls her, but instead prefers to send her text messages. And Christi V. is another parent who talks to her children's dad occasionally on the phone, but prefers texts or emails. "I will continue to see him at graduations, birthdays, holidays, marriages, and births of grandchildren, and don't want it to be awkward for our sons on which parent to invite . . . we are more than civil," she says. "We have had years of separation and no longer hold grudges for the failed marriage."
A text message can be as simple as: "'Hey, got stuff going on with our daughter. Give me a call if you want details,' then leave it at that," Christina M. suggests. If the other person wants to know more, then they can call for details. 
3. Talk to a Third Party
When emotions are running high between you and your ex, then sometimes it helps to convey the message through a third party. Obviously, a counselor can provide tools to help separated parents communicate better, Carolee Y. says. But you also can use people closer to home, like a relative or even your ex's new husband or wife, Melissa M. says. She notes that when she first tried to talk to her ex, his new wife always answered the phone. "At first this really pissed me off, but then I started to realize that if I wanted my daughters taken care of properly, I should be talking to his wife anyway," she says. "He was an absent parent when we were married, and he still is now that we are divorced. Now, if our daughters are at his house and get sick or have a problem, his wife calls me."
Jamie L. is another Circle of Moms member who feels comfortable talking to her ex-husband's new wife. "His wife and I are good friends. He and I, and our spouses, got together and decided we weren't going to be fighting, etc." she says. As a "matter of fact, we bought adjoining properties and each have a house on them so the kids do not have to feel that they have to choose which parent they want to be with. They have four parents that love them unconditionally . . . I know to a lot of people this may seem weird, but if it works, it works." 
4. Agree to Disagree
Generally, the goal of co-parenting is to provide consistent guidance for your children, Carisa H. says. But when you and your ex absolutely can't agree on how to raise your children, then it's also OK to explain to your children that each parent has different parenting styles, Sybella W. says. "In our case, we have had to teach our children different values and different rules — at Dad's it's that way [and] at Mom's it is this way. If we agreed on how things should be, we would still be together," she says.
"Kids acclimate and act differently wherever they go. They act one way with the mom, one way at school, one way at Grandma's, etc. They can act one way at your house and one way at Dad's," Danielle M. says. "I used to think this wasn't good at all, but now I think it's just fine. As long as your kids know what's expected of them and they follow your rules and respect you, it really doesn't matter when you're not together anymore."
The bottom line is when it comes to co-parenting, "there are always going to be awkward moments," Lisa T. says. "But we always try to remember who comes first in our lives. Our children have made us related to each other, and a piece of paper ending our marriage doesn't change that fact."  
"I bite my bottom lip on a daily basis, as I'm sure so does [my ex]," Deanne S. says. Yet when that happens, she advises: "Remember, [your children] did not ask to be born, nor do they want to be in the middle of your madness. They love both parents regardless of why your [relationship] ended."