Peanut Butter Banana Muffins
Homemade Breakfast: Peanut Butter Banana Muffins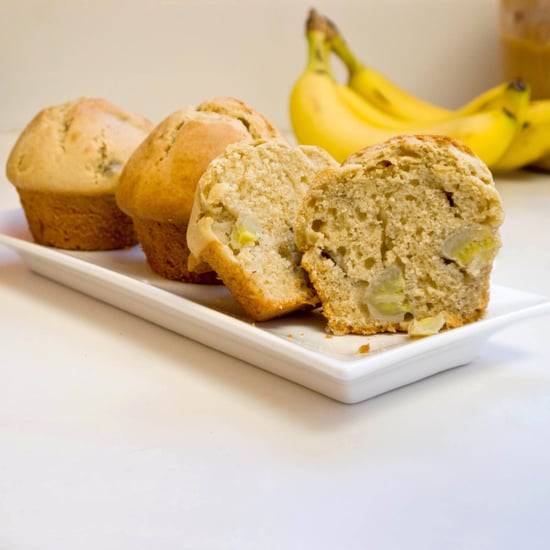 Mornings can be crazy, but starting the day off right with a healthy breakfast is essential. Instead of filling the family up with sugary-sweet store-bought breakfast baked goods, these homemade muffins are quick and easy. And they are packed with healthy protein-filled peanut butter and potassium-rich bananas, working together to create a sweet and healthy breakfast muffin or snack. Turn a slow afternoon into a baking adventure with your lil one so the next day the whole family can enjoy an on-the-run breakfast that will leave tummies full and have brains boosted for the day.
Keep reading for the tasty directions.
Peanut Butter Banana Muffins
From Sarah Lipoff, LilSugar
Ingredients
1 cup milk
2 eggs
1/2 teaspoon vanilla
1/4 cup vegetable oil
1/2 cup sugar
3/4 cup peanut butter
Dash of salt
1 teaspoon baking powder
1/2 teaspoon baking soda
2 cups flour
3 chopped bananas
Directions
Preheat the oven to 375F. Invite your child to measure and add the milk to a medium-size mixing bowl. She can also measure and add the vegetable oil and sugar.
Crack the eggs and add to the batter. If you've got a tot who's old enough to try cracking eggs on her own, let her attempt cracking an egg into a cup, and then check for shells before adding to the mixing bowl. Remember to wash hands after working with raw eggs.
Invite your child to measure and add the peanut butter and vanilla to the mixture and then stir using a whisk or spoon.
Now your child can measure and add the flour, baking soda and powder, and dash of salt. Stir the batter together until it is nice and smooth.
Offer your child a butter knife and the bananas. She can peel them, chop into chunks, and then add to the batter.
Gently stir the bananas into the muffin mix and grease a muffin tin, or line with muffin liners. Place a large scoop of the batter in each of the tins, making 12 hearty muffins.
Bake for 22 to 25 minutes, or until the tops have split and are golden brown. Remove from the oven and let cool for 10 minutes before removing from the muffin tin.
Makes 12 large peanut butter banana muffins.
Information
Category

Breads, Breakfast/Brunch

Cuisine

North American