Pesto Pasta With Chicken and Tomatoes
Pasta With "Green Sauce" the Whole Family Will Enjoy!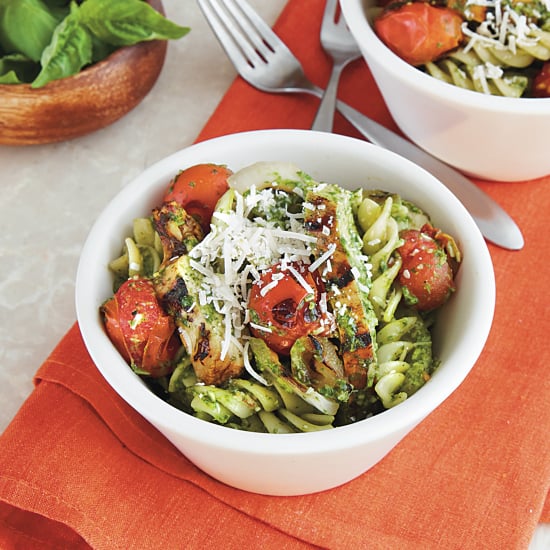 Anytime I have basil on hand, I whip up a quick batch of pesto. It's so simple and keeps in the fridge for a few days. Tossed with pasta, it's a perfect weeknight meal — a healthy, sweet, and delicious variation of the typical family pasta your kids may eat. This simple pesto pasta recipe (grilled chicken totally optional but completely delicious) will have you serving up fun "green sauce" pasta in just five steps.
Keep reading for the tasty recipe!
Pesto Pasta With Chicken and Tomatoes
From Real Family Food by Amanda Haas
Notes
Basil pesto is sweet, fragrant, and so good for you. If you'd like to make it a few days ahead, place the pesto in a small container and pour a layer of olive oil over it before refrigerating. The oil acts as a sealant and helps keep the green color of the pesto. When you're ready to use it, cook and drain your pasta, put it back in the pan, and simply stir in the amount of pesto you'd like to use. Besides serving this with pasta, you can also serve it over a seared piece of chicken with a piece of
fresh mozzarella melted over the top — heavenly!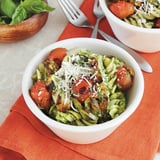 Ingredients
8 ounces uncooked rotini (corkscrew pasta)
2 garlic cloves, peeled
3 cups fresh basil leaves
2 tablespoons pine nuts, toasted
1 tablespoon fresh lemon juice
1 teaspoon kosher salt
1 teaspoon freshly ground black pepper
1⁄4 cup extra-virgin olive oil
2 tablespoons balsamic vinegar, divided
1 medium onion, cut into 1⁄2-inch slices
3 skinless, boneless chicken breast halves
4 cups cherry tomatoes
Cooking spray
1⁄3 cup grated parmesan cheese
Directions
Preheat the grill at high heat.
Cook the pasta according to the package directions, omitting the salt and fat. Drain. Place in a large bowl and keep warm.
With the processor on, drop garlic through the food chute. Process until minced. Add the basil and the next four ingredients. With the processor on, slowly pour the oil through the food chute. Process until smooth.
Brush one tablespoon vinegar over the onion slices. Brush the remaining vinegar over the chicken. Place two cups tomatoes in the center of each of two (24-by-12-inch) pieces of foil. Fold the foil over the tomatoes. Tightly seal the edges.
Place the chicken, onion, and foil pouches on a grill rack coated with cooking spray. Grill the chicken, onion, and foil pouches 15 minutes or until the onion is tender and tomatoes pop, turning all after five minutes. Remove the onion and foil pouches from grill, turn the chicken over, and cook an additional five minutes or until done. Let the chicken stand five minutes. Chop the onion. Cut the chicken into 1⁄4-inch slices. Add the pesto, tomatoes, chicken, and onion to the pasta. Toss well. Sprinkle with 1⁄4 cup cheese and toss gently. Sprinkle the remaining cheese evenly over the servings. Serve immediately.
Serves six
Amanda Haas is a cookbook author, cooking video host, and the founder of One Family One Meal, a website that helps families menu plan, grocery shop, and cook on a budget. Her cookbook, Real Family Food, features this and other delicious family-friendly recipes, as well as simple tips for bringing your family together around the table and a strategy for meal planning, budgeting, and shopping.
Information
Category

Pasta, Main Dishes

Cuisine

Italian