Photo of Chinese Doctors Bowing to 11-Year-Old Boy
The Photo That Speaks Volumes About an 11-Year-Old Boy's Selfless Decision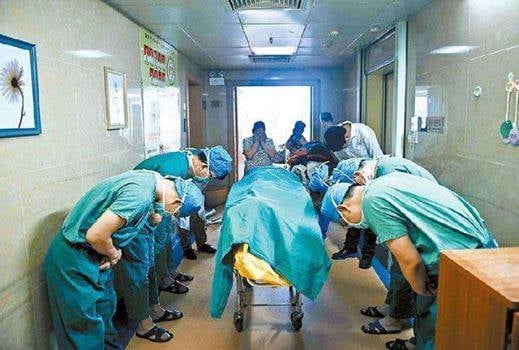 If a picture's worth a thousand words, this one may be worth a million. We often think of tweens and teens as being a bit self-absorbed, but Liang Yaoyi is a great reminder of how selfless they can actually be. An 11-year-old boy from China, Yaoyi had an inoperable brain tumor and passed away last Friday. But before he died, Yaoyi told his parents that he wanted to donate his organs so other people could live. Yaoyi always dreamed of becoming a doctor and saving lives, and this was one way to fulfill his goal. Before doctors removed the boy's organs, they took a moment to bow by his body, a sign of respect in China, in a moment photographed here. The image has gone viral as the world learns of the boy's selfless decision.
"There are many people doing great things in the world," Yaoyi told his parents, according to the KTVU Facebook page. "They are great, and I want to be a great kid, too."
And a great kid he was.