Photo of Gisele Breastfeeding Vivian
How Long Did You Breastfeed?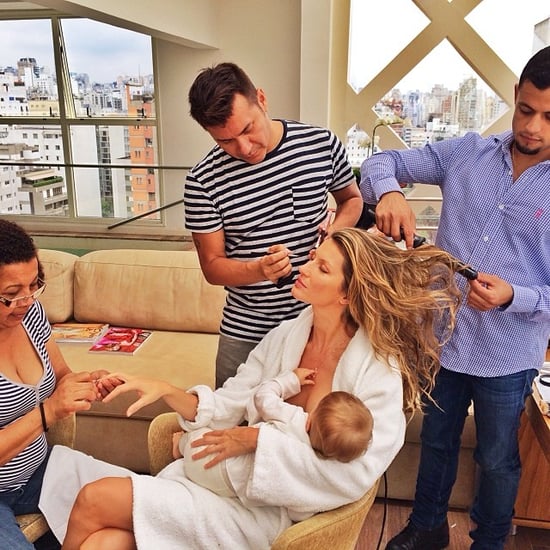 Now that's one multitasking mama! Supermodel Gisele Bündchen was the picture of a pampered, multitasking mom this morning, sharing a picture of herself getting her hair, makeup, and nails done all while breastfeeding little Vivian, 1. She wrote, "What would I do without this beauty squad after the 15 hours flying and only 3 hours of sleep"?
It's the first time she has openly talked about showed her support for extended breastfeeding since suggesting that there should be laws requiring breastfeeding for six months back in 2010. Her words sparked a world of controversy at the time. Earlier she wrote, "Breastfeeding, mainly the first days, poses some challenges, but the reward is sublime. In addition to having all the proteins, fats, and vitamins the baby needs, breastfeeding is an act of love and affection." But it appears that Gisele is sticking by her beliefs, as Vivi (as Gisele refers to her) celebrated her first birthday last week.
The World Health Organization recommends exclusive breastfeeding up to 6 months of age, "with continued breastfeeding along with appropriate complementary foods up to two years of age or beyond." But only 29 percent of American moms nurse until the 6-month mark.
So tell us — how long did you nurse your tot?