Photo of Honor Warren Wearing Baby Bracelet
Does Your Child Wear Jewelry?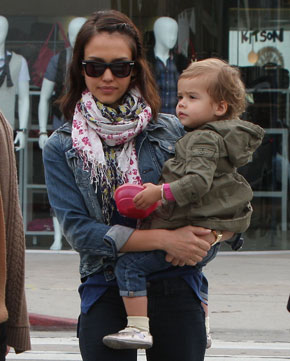 One of the sweetest gifts a newborn can receive is her first piece of jewelry. Depending on the size and the durability, it can also be one of the most dangerous presents. Stud earrings seem harmless, as do anklets, but necklaces can be a choking hazard. Trendtotter Honor Warren knows how to accessorize, and yesterday was no different. The precious babe was spotted wearing a silver bangle on her wrist while mama Jessica Alba toted her on her hip.
Many parents purchase or accept the pretty pieces and put them away in jewelry boxes for safe keeping and later usage. Do you allow your tot to wear jewelry?