Pictures of Alicia Keys Pregnant
Pregnant Alicia Keys Romps Across the Stage on GMA!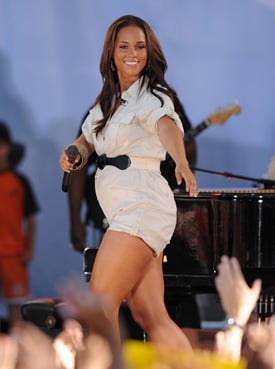 Alicia Keys is getting a head start educating her baby-to-be with a little romper room! While the songstress probably isn't watching episodes of the classic educational program, she wore one of Summer's hottest trends, an all-in-one, despite her growing belly.
A shorts version of the jumpsuit, rompers help mamas-to-be keep cool during a heat wave. Cotton versions of the one-piece outfits are the perfect alternative to the maternity sundress, allowing expectant women to slip the garment on in a time crunch. For pregnant ladies who are making frequent trips to the bathroom, a zippered version, rather than Alicia Keys' buttoned one, is probably a more practical choice. Do you like the look?