Pictures of Halle Berry and Nahla Aubrey
Halle Berry's Got a Gucci Girl in Daughter Nahla Aubrey!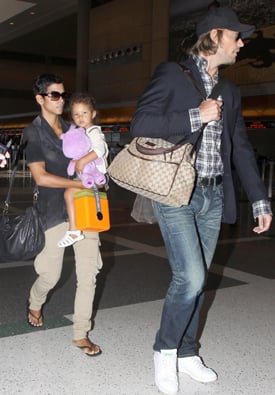 Even the designer bags are subject to inspection! Halle Berry and Gabriel Aubrey toted their daughter Nahla and some bags through LAX over the weekend. The former couple, who seem to be keeping things amicable for their daughter, didn't look overloaded by their luggage, which included a luxurious diaper bag. Like fellow mom Sandra Bullock, Halle keeps her tot's nappies in a pricey tote — the Gucci Messenger Diaper Bag ($990). Lil Nahla kept her snacks under wraps in a BPA- and phthalate-free, eco-friendly Oots Lunchbox ($30).