Pictures of Kingston Rossdale and Zuma Rossdale
9 Reasons the Rossdale Boys Make the Best Playdates
Celeb kids get to travel the world, fill their closets with toys, and have crazy, over-the-top parties — but there are some tots that just appear to have more fun doing it than anyone else. If you've had your eye on Kingston and Zuma Rossdale over the past few years like we have, you know that these boys love to have a good time. Whether they're playing together on the playground, relaxing on the beach with their parents, Gwen Stefani and Gavin Rossdale, or wearing their favorite costumes during a trip to the grocery store, Kingston and Zuma always appear to be having a blast — which is why we think they'd make the best playdates for our kids. Read on to see why!
1. We'd have a ball on the playground.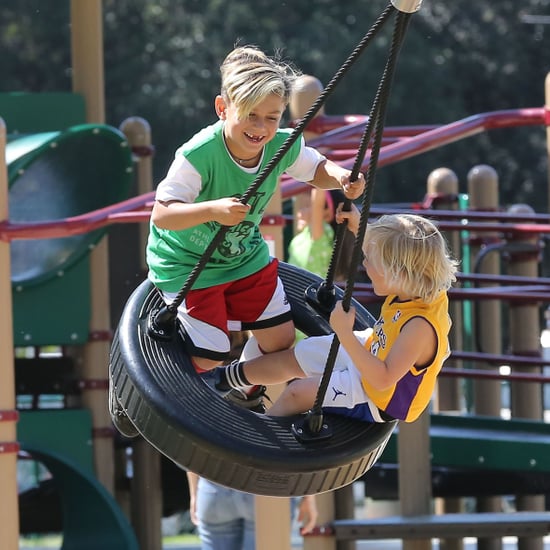 Playground playdates are always fun, because there's so much to do. From the jungle gym to the swings, Kingston and Zuma appear to love it all — especially the tire swing, which is one of my boys' favorites, too!
2. They would serve healthy lunches.

Parents always feel better dropping their child off at a playdate when they know that their kids will be properly cared for and fed. Given Gwen's healthy food shopping tendencies — see the fruit and all-natural smoothies she's serving here — you'd know that she would feed your tot healthy foods that come from healthy sources.
3. Dress up would be a blast

The dress-up corner at school is always a popular place for preschoolers to play, and it's a favorite at home, too. Given all of the fun costumes Zuma wears around town — superheroes, race car drivers, and more — we bet his dress-up trunk is filled with something for everyone!
Keep reading for more reasons the Rossdale boys make the best playdates.
4. It could be an adventuresome playdate

An afternoon playing with toys in the basement is great, but sometimes kids need a change of scenery. The Stefani-Rossdales aren't afraid to change things up and even take Kingston on some adventure courses. If they're willing to go on the course with the kids, we're all for it!
5. We could include other fun friends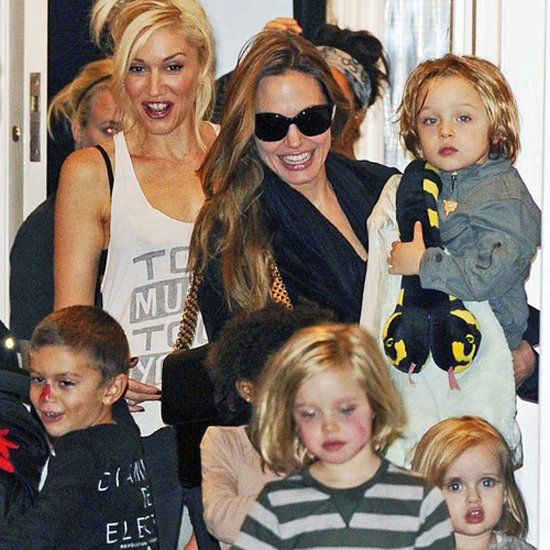 The more the merrier is what I've always said when it comes to playtime, and it looks like Gwen agrees. She's hosted a playdate for Angelina Jolie and her brood of tots, as well as the Beckhams, and other famous celeb families who look like they know how to have a lot of fun — just look how happy everyone looks here!
6. They're not afraid to serve treats for snacks

Healthy meals are great, but kids need a treat every now and then, and it doesn't look like Gavin shies away from the ice cream truck. I'd like to think he'd treat the kids to a pop if they had been on their best behavior all day.
7. Gwen and Gavin wouldn't stand idly by

There are parents that just let the the kids play by themselves, and then there are the moms and dads who play with them. Gwen and Gavin appear to have a blast playing with the kids — pushing them on the swings, kicking the ball around, playing a little baseball, and more so that everyone has a good time during the playdate.
8. The playdate could be educational

Play's great, but it's also nice when the kids come home from a playdate having learned something. Gwen and Gavin don't seem adverse to taking their kids' friends places with them — like to a charity event. If my kids came from playing and could tell me that they helped people out that day, I'd be beaming.
9. The boys could provide some style tips

Have you seen how these boys dress? They're preppy and punk and sporty, all at the same time. Their creativity abounds, and I'd love a little of that to rub off on my kids. Perhaps if they spent some time together, mine could learn a thing or two!