Pictures of Maclaren's 2011 Products
Maclaren Rolls Into Baby's Bedroom With Heart Glider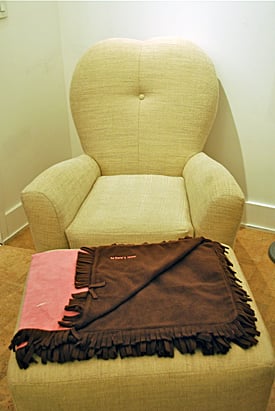 Stroller giant Maclaren is giving mama a place to sit! After acquiring David Netto's design firm last year, the brand began selling cribs and changers. And, now the buggy maker is adding love to lil lairs with a Heart Glider and Ottoman ($1,100 and $400).
I had the chance to test out the comfy seat at a press preview of Maclaren's 2011 collection. I also spied samples of the new color combinations for the Volo (bright blue and pink), the Triumph (royal blue), and the Quest (bright blue, pink, and denim) strollers. And, I got a peek of the new colored frames for the Techno XT and a debut collection of diaper bags that have mom's needs in mind. Check everything out in the photos below!
To see the other items we saw at the showroom, read more.