Pictures of Mountain Buggy Free Rider Stroller Scooter Attachment
Mountain Buggy Introduces Free Rider Scooter Attachment For Stroller!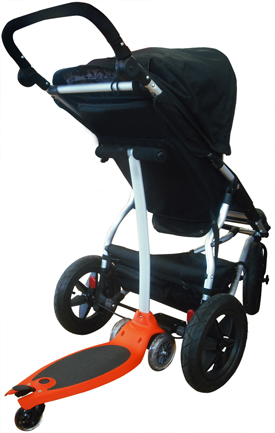 Rumble seats are so 2010! Skateboard attachments are the hot trend for 2011.
On the heels of Orbit Baby's introduction of the Sidekick skateboard that can be hooked onto the sides of the G2 buggy, Mountain Buggy just released the first official photos of its Free Rider, a 2-in-1 board that goes from buggy board to scooter in seconds. Using an integrated handlebar, the ride-on attachment gives tots a place to hold on while their young sibling is being pushed, as well as the freedom to scoot alongside the pushchair when it is detached. It also converts into skateboard mode when the handlebar is removed, and the rear wheels are locked into place. Though it will initially only fit Mountain Buggy strollers, the company is working to make it fit other prams as well.