Piggy Paint Eco-Friendly Nail Polish For Kids
Bling It On! Piggy Paint Is Perfect For Glitzing Your Tot's Nails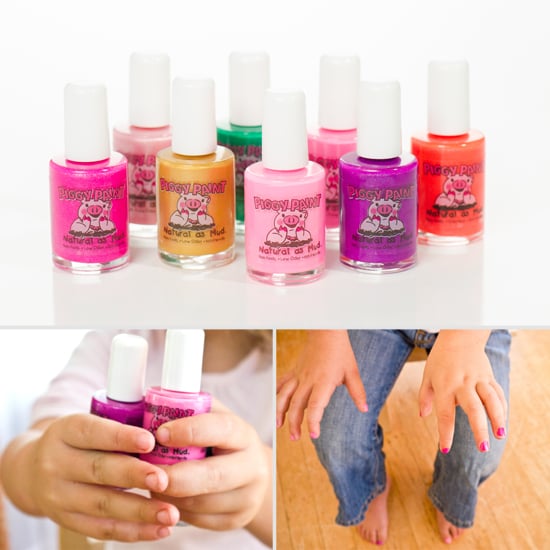 The other day I attempted an at-home pedicure, which left me light-headed from the fumes and my tot begging for sparkling toes too. After removing my smelly, toxic nail polish, I began searching for a kid-friendly solution for some much-needed nail-painting indulgence. After discovering Piggy Paint, the brainchild of smart mama Melanie Hurley, I was excited to give her "natural as mud" nail polish a try.
Made with all-natural ingredients — sans formaldehyde, toluene, phthalates, biphenyl A, ethyl acetate, or acetone — the paints are hypoallergenic, making them perfect for just about everyone. With colors from neon to neutral, the polish is safe to use during pregnancy, and there's even a line just for your pooch. Eco-friendly and natural, the polish is also scratch- and chip-resistant.
When the polish arrived, my daughter couldn't contain herself, but I wanted to give Piggy Paint a trail run before glitzing up my tot. After tucking her in for the night, I gave my toes a new look and was amazed at the vibrant color of the polish and how it didn't smell at all. The next day, my daughter and I enjoyed a mini mani-pedi party without getting dizzy from the fumes or turning into a sticky nail polish mess. Her fingers and toes sparkled, and the polish looked great even after a couple days of toddler wear and tear. You can even glam your tot's nails further with the help of Piggy Paint nail art stickers or a veil of the brand's clear glitter, which may be all the enhancement your tot's nails need for Halloween.