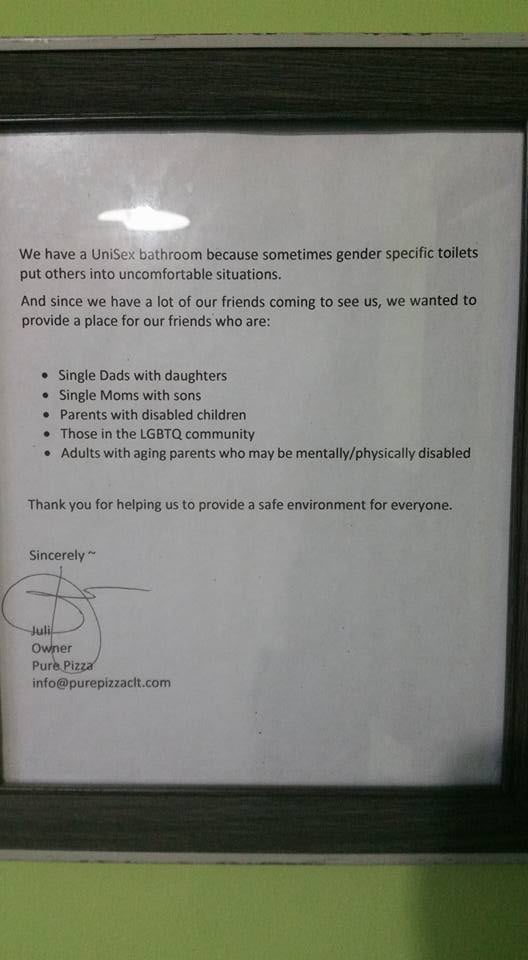 There's been a lot of talk this past year about the sometimes-controversial move toward gender-neutral public restrooms. Those against it are often at one extreme — adamant that there should be a separate room for males and a separate room for females — while those for it are steadfastly in the other extreme, with most news reports focusing on transgender teens wanting to feel comfortable using the bathroom.
But it's not just an issue for the LGBT community, as one pizzeria noted in a sign inside its unisex bathroom. Juli Ghazi, the owner of Pure Pizza in Charlotte, NC, posted the sign in an attempt to explain all the varied reasons a gender-neutral bathroom is helpful, most of which — like single parents with prepubescent kids of the opposite sex — don't get buzzy, national media attention [1].
The sign reads:
We have a UniSex bathroom because sometimes gender specific toilets put others into uncomfortable situations.
And since we have a lot of our friends coming to see us, we wanted to provide a place for our friends who are:

Single Dads with daughters
Single Moms with sons
Parents with disabled children
Those in the LGBTQ community
Adults with aging parents who may be mentally/physically disabled
So, the next time you think the need for gender-neutral bathrooms applies only to a very specific person, let this sign — which was posted on Facebook [2] to overwhelming praise for "setting a good example" — be a reminder that almost everyone, at some point in their lives, will take comfort in having one available to them.