Planning a Disney Princess Party
Snow White Wants to Come to Your Lil One's Next Party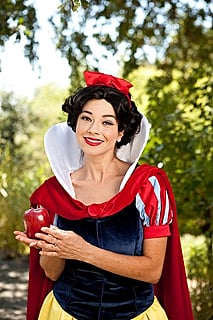 If your lil girl is begging for some face time with Belle, Ariel, or the rest of the classic princess gang, it may be time for a princess-themed party. There's nothing quite like the look on your tot's face when a picture-perfect princess steps onto the scene! Just ask Maaika Westen, an actress who spends weekends performing at children's parties as part of The Cinderella Company.
Maaika has been performing as Snow White, The Little Mermaid, and several other characters for three years, and calls the job one of the most enjoyable she's ever had. "I come from a corporate background and found that as adults our imaginations fade away by being trapped in cubicles every day," Maaika says. "Every time I do a kid's party I get to see little souls that have no pretenses, say what is really on their mind and really do believe that the world is still a magical place." Read on to find out what it's like being the face-painting, balloon-twisting, ballroom-gown wearing guest of honor at these parties!
LilSugar: What are the first reactions from the kids when they see you?
Maaika Westen: The kid's first reactions for the most part are little faces beaming with joy as they run up and give me a big hug, which is my favorite. There are times that kids are a little shy, but after a while they warm up, and I end up getting a big hug from them at the end of the party. There was once particular time a little girl was so excited and almost in shock that she started crying as she was so excited to see Snow White show up to her party.
LS: What are the most asked questions from the kids?
MW: I get so many questions from kids and I love answering anything that may come to their creative little minds. Oftentimes they ask simple questions such as "Where do I live" or "Which Dwarf do I like the best." Sometimes they ask random questions like "Don't you ever wear any other clothing?" Kids do say the darnedest things sometimes.
LS: Do the kids really think your actually Snow White?
MW: Children 7 and under really do think I am Snow White. However, children a little bit older tend to become more skeptical, but with a little theatrics and magic, they start to second-guess themselves.
See more of what Maaika has to say about being a party princess, including her advice for parents looking to throw a party, after the break.
LS: What are the reactions from the adults?
MW: Honestly I think the adults are just as entertained as the kids. During my performance, I am Snow White 100 percent of the time.The parents love to watch their kids interact with Snow White and the other children and hear about this age old tale that they remember as a child. It seems to brings out the inner child in everyone! There has even been a handful of times where some of the adults wanted their faces painted or a nice flower balloon. I get so many compliments from the parents that I really do look like the real Snow White. My response to them is, "Well of course I do — I am the real Snow White!"
LS: What was your most memorable party?
MW: One of the most memorable events I attended in character was for the Make-a-Wish Foundation. A little sweet 5-year-old had been in the hospital for six months with a mysterious illness and had rarely left her hospital room for the last three months. Her family and some of her caregivers gathered for a get together, and I was able to brighten her day as Little Mermaid. Moments like those make me feel that this is more than a job. This is about spreading joy, wonder and hope and letting people know that dreams really do come true.
LS: What advice would you give to parents planning a character or princess party?
MW: Come up with a plan of action, time line and age appropriate activities.  Keep the guest count to a minimum of 10 to 15 kids. A lot of parents think that they should invite the whole class, but in doing so changes the dynamics and can cause stress and over stimuli for some kids. Make sure that the venue is suitable for the number of guests and activities you are providing. If you want a party to be a wonderful experience for your child, guests and yourself, do not complicate things, plan it out ahead of time and keep it simple.