Pool Gear For Kids
Be Prepared: Packing For a Day at the Pool
If you are sending your lil swimmer off to Summer league, swim camp, or even a day at the pool with friends, they will surely have a good time, but it will take a bag full of tricks to make sure they are safe and satisfied! Here is a list of gear to pack before your kiddo gets ready to dive right in this Summer.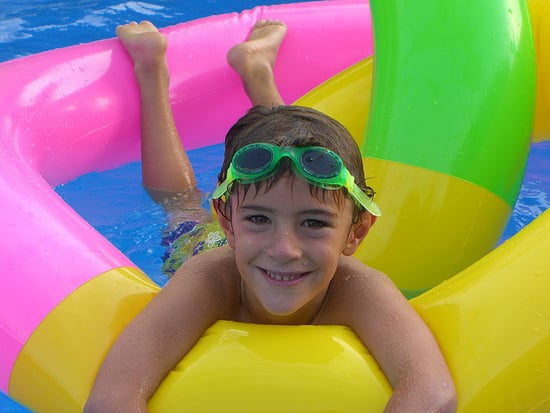 The basics: There is a lot more that goes into packing for the pool than your average play date. The basics like a suit, towel, swim shoes, goggles, and an extra change of clothes are of course, essential.
Snacks: Spending all day splashing around will not only lead to a great nap, but will surely have the kids hungry. Packing light snacks (to avoid an upset stomach while swimming) such as crackers, granola, and some fruit will help curb their hunger. Sandwiches make for an easy and healthy lunch and don't forget to include a few bucks in case of an emergency or snack bar treat!
Sun Protection: Having you kids apply sunscreen is always a battle, but it is of utmost importance! Lather them up with kid friendly sunscreen before they even head out the door and remind them of the need to reapply to avoid icky burns. Sunglasses and a hat will provide even more coverage.
Toys: Have a little fun packing, sometimes leaving mom for the day is hard! Include your child's favorite swim toy or "comfort" item to help them break the ice if they are shy, or even encourage them to get into the water. Pack an inexpensive toy like these fish rings ($2) for a secret surprise to get them excited about the day ahead.
Floaties: For any young swimmer, these are a must and will give them the extra confidence they need to jump right in. There are so many options, it's just a matter of choosing what your swimmer is comfortable in. Whether they are something playful like these Swimways Fishbite Floaties ($10) or a Power Swimr Suit ($19), floaters will offer you and your tot a sense of safety while playing in and around the pool.
Source: Flickr User Yatmandu