PopATot Portable Activity Center For Babies
PopATot: Kid Friendly or Are You Kidding?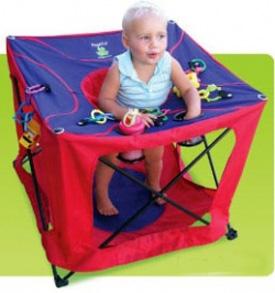 Exersaucers and portacribs may give mamas a break when they need a safe place to rest their child, but what is she supposed to do when she is away from home and needs to put her mobile tot down? The PopATot ($50) portable activity center gives lil ones a safe, stationary place to play when a parent's arms aren't an option. With snack cup and toy attachments, the all-in-one play seat provides babies the opportunity to sit or stand while occupying themselves away from home. Made from a lightweight steel frame and covered in a light canvas, the PopATot easily collapses into its over-the-shoulder carrying case, making it perfect for the beach, campsite or even the basement.
Would you invest in one of these portable activity centers?