Poppy Drops Temporary Tattoo Earrings For Little Girls
Poppy Drops Temporary Earrings: Kid-Friendly or Are You Kidding?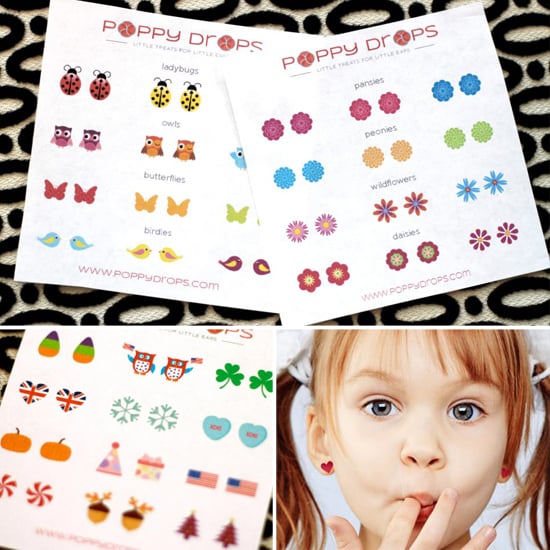 My daughter isn't old enough to ask for pierced ears yet, but considering her 18-month-old obsession with glitter, ruffles, and my jewelry, I'm guessing the question is pretty much inevitable. For moms who are already getting it, but aren't quite ready for the real deal, check out Poppy Drops temporary tattoo earrings ($8 for a sheet of 12 pairs). Longer lasting than those silly stick-ons, Poppy Drops are easily changed or removed and come in dozens of cute designs. All of Poppy Drops earrings are made from food-grade vegetable dyes and are totally safe for kids of all ages (even the Consumer Product Safety Commission says so).
Each earring collection ("Peace + Love," "In Bloom," "Seasonal Sampler") comes with 12 pairs of earrings. Like all temporary tattoos, just cut out the two you want, remove the clear protective sheets, and lay them facedown on each earlobe. Use the Poppy Drops applicator ($3) or a wet cloth to moisten the sheet until the design transfers on the skin, and voilà, pain-free earrings that will last for more than a week. To remove them, just use a little baby oil or rubbing alcohol.
So would you let your little girl wear Poppy Drops? Or will you stay earring-free until she's old enough for the real thing? Weigh in below.