Popsicle Crafts For Kids
Craftastic: Beat the Heat With Edible Popsicle Painting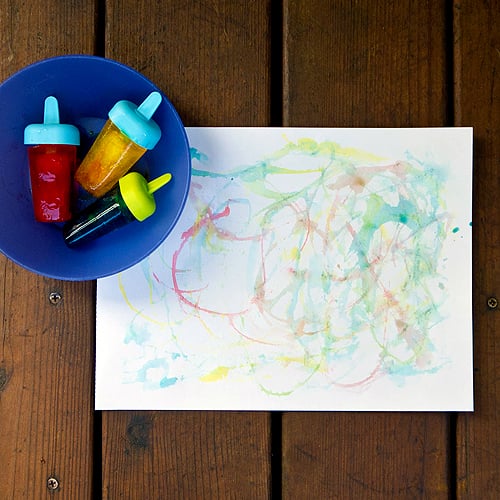 It's hot, hot, hot, which sometimes makes it hard to find fun and cool things to do with your tot. Beat the heat with this seriously easy and fun activity. Make some popsicles the day before you know things are heating up, and you're ready for a Summer painting adventure. Along with getting creative, your lil one will test his taste buds too. This is the perfect project to do in swimsuits, and papers can be placed in the driveway or on a picnic table outside to cut down on the mess. Just be prepared to hose down your lil tyke when finished!
What You'll Need
Small popsicle molds
Lemonade
Food coloring
Paper
Directions:
Invite your child to help fill the popsicle molds almost to the top with lemonade. If your child isn't a fan, you can use any type of light-colored juice, such as white grape or apple.
Carefully drip two to three drops of food coloring into each popsicle container, creating as many colors and you'd like. Stick with the primary colors (red, yellow, blue), or mix to create the secondary colors (orange, green, purple). This is a great opportunity for some color theory fun!
Pop the top on the colorful popsicles and place in the freezer overnight.
The next day, remove the popsicles from the molds, don suits, and head outdoors with the pops in a bowl and a few sheets of paper. If it's windy outdoors, tape the paper to your work surface to keep things in place.
Invite your child to see what happens when he uses the popsicle for painting — instead of eating! He can swirl and move the popsicles around his paper, creating colorful lines and shapes. And he can give his unique painting tools a taste every once in a while too!
While your tot is painting, ask if the red popsicle tastes differently than the blue, teasing his senses. Even though all the popsicles are the same flavor, the different colors trick the mind.
Even though this is a fun activity to do with kids, remember food coloring can stain. Make sure to wear appropriate clothing, and plan on bathing kids when finished.
Image Source: POPSUGAR Photography / Sarah Lipoff