Postpartum Exercise Tips
5 Things New Moms Must Overcome When Getting Back to the Gym
That chubby little tushy on your newborn baby is probably the most adorable thing you've ever seen, and although pregnancy has left you with the same squishy tush, for some reason it's anything but adorable to you. Once you hit the six-week mark, your doc has likely given you the green light to start exercising, and you're excited to get on the road to getting your pre-baby body back. Here are some obstacles you might encounter when heading back to the gym and how to overcome them.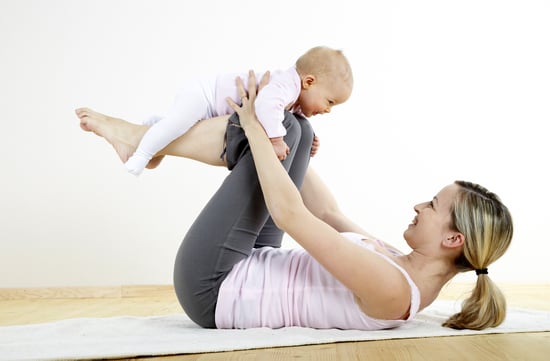 Fatigue: Always having the feeling like you could use a nap doesn't exactly give you the get-up-and-go you need to do an intense butt-blasting workout. Cut yourself a break and start off with shorter, low-intensity workouts such as walking, yoga, or swimming. A 20-minute walk around the neighborhood every day for a week (or longer) will feel like plenty. Gradually increase the intensity and length of your workouts as your strength and stamina increases.
Engorged and/or leaking breasts: Nursing moms not only have to find sports bras and fitness tops that are big enough to handle their fuller bosoms, but there's also the pain of engorged breasts and the oh-so-embarrassing leakage. Plan ahead and nurse or pump your baby immediately before heading out for a workout. Invest in a supportive, full-coverage nursing sports bra like this one from Motherhood Maternity ($17) so you can empty your breasts without having to waste time getting your workout clothes on.
Feeling self-conscious about belly fat: It took you nine months to grow that belly, so don't expect it to diminish right after the birth. A healthy diet, exercise, and time is the key to getting your body back, so in the meantime, wear tops like these that hide your pooch. And before heading to the gym, sip on this flat belly smoothie made with ingredients like pineapple and kale that can help diminish fat around your waist.
Being away from your baby: Hormones coupled with the insane love you feel for your baby make it tough for some moms to even think of leaving them, even if it's for only 20 minutes. Don't let the bond you share get in between your workouts — bring your baby along. When your baby is still small, wear him or her in a Moby Wrap for walks or hikes — it's lightweight and super supportive for new moms often sore backs. You can also take him or her to a postnatal yoga class or do some poses at home following this yoga sequence. Once they're a little older, invest in some baby gear like a Bob Jogging Stroller or Chariot trailer for biking. You'll not only be burning calories together, it instills in them at an early age that is an important part of a healthy life.
Weak abs: Core exercises aren't recommended during pregnancy, plus your muscles get completely stretched out as your baby grows, which leaves you with weak, flabby abs that can hardly do one crunch. It also makes for an achy lower back. Don't get frustrated — get strong. You can quickly build ab strength by spending time during each workout on core-building moves. Try this 10-minute core workout.