Pregnancy Simulator
Mommy Tummy Pregnancy Simulator: Ga Ga or Gag?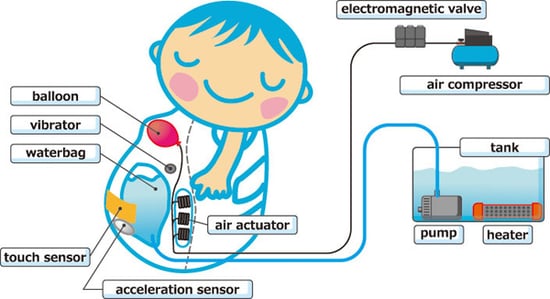 "You have no idea what this feels like!" This phrase has likely been uttered in every different language since the beginning of time — wives angrily berating their husbands for not being appropriately empathetic to their big, achy, swollen pregnant selves. The Mommy Tummy hopes to enable men to give an authentic, "Yes, I do know how it feels!" in response. It's a Japanese project currently in the development stages with the stated goal:

With Mommy Tummy, we aim for a better world that treats maternity with the care it deserves.
The gadget is made up of a water bag, touch sensor, acceleration sensor, and fetal air actuator to simulate the growth, weight, and movement of a fetus. Little balloons inflate and deflate at random to simulate a kicking fetus, and balloons placed in front of the chest area simulate breast development. Water is pumped into a bag to mimic the pregnant belly and is even maintained at 100 degrees Fahrenheit, and a vibrator inside the jacket simulates the fetal heartbeat. Sure, the men have the luxury of taking it off when they're over the hot, bloated fatness of it all, but it may just give them a lil glimpse into what women go through in the name of reproduction.