Pregnant Tori Spelling Wears a Bikini
Tori Spelling Bares Her Pregnant Belly in a Bikini: Would You?
We're excited to bring you a new post from mother and actress Tori Spelling! Every other week, we're bringing you the best parenting and lifestyle advice from ediTORIal by Tori Spelling, which is Tori's daily blog about everything from food and fashion to parenting and relationships. This week, Tori tells us why she's proud of her baby bump, even in a bikini.
Spoiler Alert: Yep! I'm wearing my BUMP PROUD again in a bikini, so if you don't want to look, then leave my site now!
Related: Hattie's first pedicure
A few months back, I caught a lot of flak on two separate occasions for bearing my baby bump in a bikini and monokini while spending the day poolside with my family. Apparently people online have some strong opinions about showing your pregnant body and what's appropriate to wear. I got a lot of comments like these: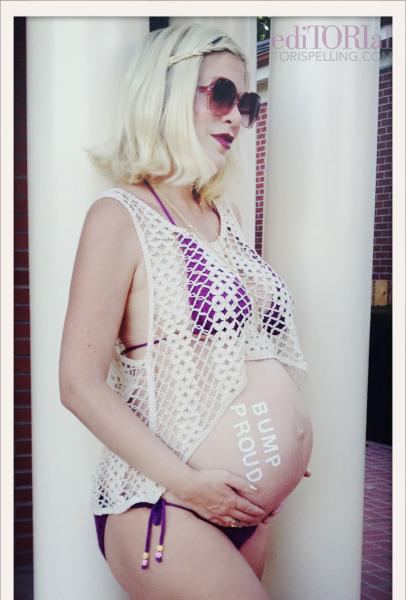 "Too much showing. Not suitable for a pregnant mom with a 7-month-old."

"Ewww. She's pregnant! Cover that bump up! No one wants to see that!!"

"NOT motherly AT ALL. In future years, she will surely regret that unflattering picture. COVER up, girl!"

"That suit is barely suitable for a nonpregnant woman, let alone a pregnant one!"

"Have a little more modestly when you're pregnant!!! Geez!!!"

"I mean, it's OK for a younger girl to wear something like that, but a mom of (soon-to-be) four, having a baby bump, that suit doesn't seem, ahem, 'suitable'"

"She's pregnant and wearing this? She's just trashy and looks like a hooker!"
I have to say, I'm super proud of my bump. Why should I be embarrassed and cover up something that's the greatest gift a woman can experience? A pregnant woman in any shape or size is beautiful! Pregnancy is an amazing journey, and we preggers should be able to show it off. I call it BUMP PROUD! Embrace your growing curves and burgeoning belly.
More momvo after the break.
Plus, we are hard at work baking a baby. It's not easy! It's tough. We have aches and pains and things happen to our bodies we never imagined, so we should have the same right — if not more — to dress how we want without judgment. Plus, I would wear either of those bathing suits before pregnancy (And I have! Plus, the monokini is vintage and '70s-crochet chic), so why shouldn't I be able to now just because I have a big baby belly?
And as for setting an example as a mother — please. I'm making a conscious choice to show my daughters that they can express themselves and be proud as women of their bodies. I don't ever want them to think that they should be ashamed of or self-conscious about their bodies, no matter what shape they're in.
I think everyone needs to give pregnant women a break and understand that pregnancy is a very special and personal experience for a woman. I'm all about encouraging pregnant women everywhere to wear your Bump Proud!!

I'm curious to hear what you all think — do you wear your bump with pride? Or do you think we pregger ladies should cover up when we're expecting?
Leave your thoughts on the topic in the comments below!
Love,
T
More great reads from Tori Spelling:
Liam's World: Dad's Deodorant
Momvo: Too Smart TV?
Saturday Fun: DIY Tie-Dye With the Kids
The Gourmet Dad's Gummy Bear Salad