President Obama and Daughters' Basketball Games
President Obama Admits to Being an "Overinvolved Sports Parent"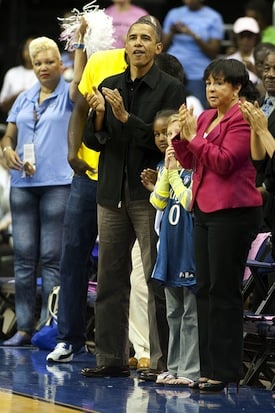 Think your kids could handle the pressure of the commander in chief coaching their basketball games? According to a recent interview with ESPN's Bill Simmons, Barack Obama has some experience in running the show for one of his daughter's teams. "Reggie [Love, Obama's brother-in-law and Oregon State coach] and I would be sitting in the stands and we'd be passing her [the coach] notes and whispering. And finally she said, all right, why don't you guys – so we took them to a local gym on Sundays and started running some practices."
When the coach was unavailable, the president would even sit in and run the team during games. "You just want them to win so bad. And when they actually run a play and it works — you're just ecstatic. And a couple of heartbreaking losses and you're feeling terrible. But they're wonderful," the president said.