Protecting Kids From Sports Injuries
Tennis Star Sloane Stephens on Preventing Kids' Sports Injuries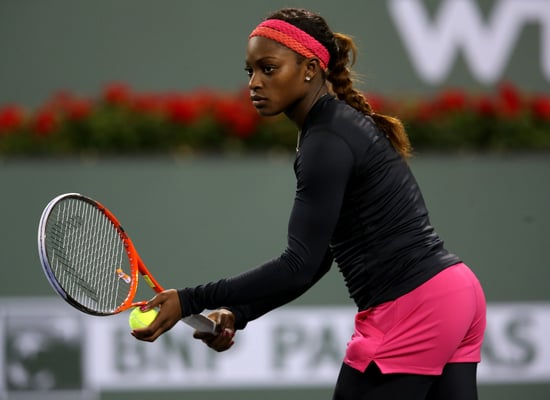 Sloane Stephens, 20, has been playing tennis for the better part of her young life and is currently ranked number 16 in the world by the Women's Tennis Association. We were lucky enough to catch up with the emerging star yesterday as she took a rare moment away from the court to discuss a topic near to her heart: preventing children's sports injuries.
In honor of National Youth Sports Safety Month, Sloane has teamed up with Johnson & Johnson to promote their new Donate a Photo app, which raises funds for Safe Kids Worldwide, an organization dedicated to the prevention of children's athletic injuries. To put it to use, you just download the app, "donate" a photo, and Johnson & Johnson will give $1 to Safe Kids (or another non-profit organization of your choosing). The app allows you to donate a photo a day, and you can share your actions with Facebook friends and Twitter followers to encourage others to participate as well.
Read on to learn more about why safe sportsmanship is so important to Stephens, what you can do to prevent your own kids from getting hurt, and how to raise awareness on a larger scale.
POPSUGAR: When did you first become aware of the seriousness of children's sports injuries?
Sloane Stephens: My brother had broken both of his arms playing sports before the age of 10. It's all about awareness. Kids need to warm up before they begin practicing or playing a sport, stretch properly, and listen to their bodies. If something is bothering them or doesn't feel right, they need to know that it's OK to tell a parent or PE teacher.
PS: How did you get started playing tennis?
SS: I grew up right across from a country club and went to lots of Summer camps. I started playing when I was 9 years old. It was really a steady growth — I was never rushed or forced.
PS: What's your advice for parents who think that their child might have a real talent?
SS: Let your kids be kids. Don't force it. If you push it too much, your kids will respond by doing crazy things. They'll always find their way — just encourage them.
Click here to continue reading about Sloane's rise to success and how to prevent sports injuries.
PS: What's your favorite thing about playing tennis?
SS: Traveling and meeting people.
PS: How do you stay motivated and maintain your level of focus?
SS: When I'm out there on the court, I remind myself that it's only for a limited amount of time. I just have to focus for the duration of the match; then it'll be over, and I can go relax and do something else.
PS: Tell me about your coach. How does he keep you inspired and motivated?
SS: I've worked with my coach, David Nainkin, since the middle of last year. He always reminds me to have fun, enjoy myself, and keep things light.
PS: What are your goals for the coming year and beyond?
SS: I just want to stay safe and injury-free. I don't have any goals in terms of rankings or tournaments — I just want to be healthy.