Rainbow Fish Craft For Toddlers
A Rainbow Fish-Inspired Resist-Painting Craft For Kids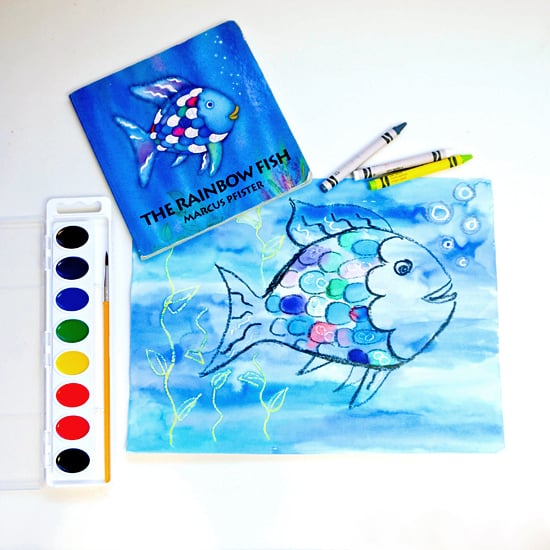 Just about every child loves The Rainbow Fish by Marcus Pfister. Not only is it a classic, but also, the illustrations take kids right under the sea alongside the sparkly scaled fish. The next time you and your tot have finished enjoying the story, get crafty with this exciting and educational art activity. Crayons are made from wax, which doesn't mix with water. Your child will be amazed as she paints over her rainbow fish and her crayon drawing pops through. The finished creation looks just like a colorful fish swimming in the sea!
Read on for the simple directions!
What You'll Need:
1 sheet white drawing paper
Crayons
8-color watercolor set
Small cup of water
Paintbrush
Directions:
After reading The Rainbow Fish, get out a sheet of white drawing paper and crayons. If your lil is old enough to draw a fish on her own, then invite her to keep the book handy as inspiration while drawing her fish using the crayons. Encourage her to press hard, making strong lines.
If your tot isn't ready for drawing her own fish, then get crafty and draw a simple outline for your child to use – it doesn't have to be a perfect replica!
Get out the watercolor paints as well as a small container of water and paintbrush for your youngster, and invite her to paint over the fish drawing. Encourage her to coat the entire paper with a blue wash of color so it looks just like the fish is under the sea! Discuss how the wax in the crayons push, or "resist," the water so her drawing pops through.
Now she can add areas of color, such as on the individual scales of the fish, for detail.
Once she's finished, allow the painting to dry, and then display it for the rest of the family to see!