Reasons to Use Organic Bath Products on Baby
5 Reasons to Use Natural and Organic Bath Products on Baby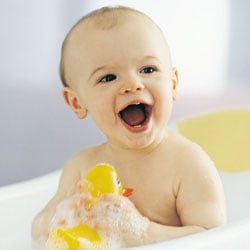 Bathing baby means more than just keeping a child clean. It also means making the soap and shampoo decision. While several mainstream brands contain parabens, petrochemicals, phthalates, synthetic dyes, and preservatives, organic and natural alternatives are beginning to get more shelf space. Momprenuer Kelly Boyd launched My True Nature, a cartoon-labeled line that gives parents a safe soap option and children some tub-time entertainment. I asked Boyd why parents should use natural and organic products on their offspring. Here's what she said:
Your child's skin is his/her largest organ. Skin soaks up products that are put on it. Do you want your child's skin to soak up genetically modified organisms, parabens, petrochemicals, synthetic dyes, etc.?
Products that are not natural and organic can irritate your child's skin and exacerbate (or even cause) dry skin or eczema.
Bubble bath containing synthetic ingredients can cause frequent urination and a burning sensation during urination similar to a urinary tract infection.
Natural and organic products — particularly those packaged in recycled (and recyclable) plastic bottles like ours are — help protect our environment in that they are manufactured with methods that are environmentally friendly and in many cases, with sustainable practices.
Natural and organic products feel better on your child's skin and leave it without the dirt, but with all the natural oils and goodness intact. They don't strip away the natural layers of protection the way many synthetic products do.