Remaining in PrePregnancy Clothes
Tummy Tie: Ga Ga or Gag?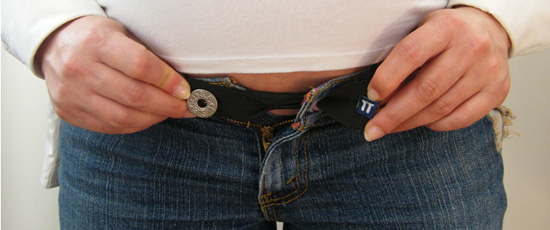 Mamas-to-be go to great lengths to keep their pre-pregnancy wardrobe working as long as possible. Necessity is the mother of invention, so it is no surprise that the age-old maternity trick of using a rubber band to keep your unbuttoned pants closed has led to the creation of an elastic designed expressly for women hoping to stave off maternity clothes for a few more weeks.
The Tummy Tie ($15 for three) threads through a pants' buttonhole and reattaches to the button, keeping trousers closed and flat against the belly. Its creator claims that the ties can be used for the first five or six months of pregnancy, given the stretchiness of the fabric and two sizes included in each pack.
Would you give the Tummy Tie a try?