Resources For Infant Educarers Gains Celeb Following
Is Hands-Off Parenting Hollywood's Newest Trend?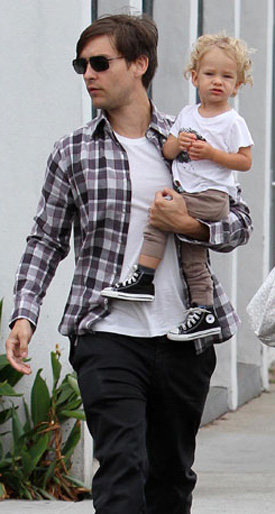 Could the age of competitive parenting be coming to a close? In an age where parents brag about how much time their lil ones spend on their bellies and are quick to swoop up unhappy tots, an old school, hands-off parenting approach is gaining momentum and several celebrity parents are leading the charge.
According to the website for Resources for Infant Educarers, RIE, "encourages babies to become attentive, active, exploring persons who are self-rewarded in the mastery of new tasks." The philosophy encourages narration of activities (explaining diaper changes, noises, etc.), attentive listening (not automatically picking up a crying baby, but looking for clues as to what is wrong), and simple playthings (no television, mobiles, or mirrors). Gone are songs sung to calm babes, but rather an appreciation for their "struggle" is supposed to help build stronger children. A Huffington Post piece about the movement linked Tobey Maguire, Helen Hunt, Jamie Lee Curtis, Jason Alexander, and Felicity Huffman with REI practices.