Review of Alphie Digital Toy
Alphie the Learning Robot Makes a Modern Appearance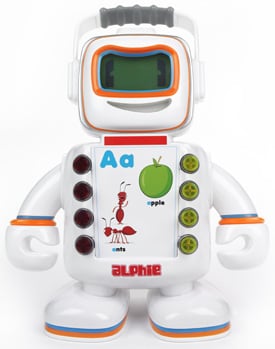 If you were a child of the '80s, you may remember the beeping boot-up sound of Alphie, the learning robot. Fast-forward 30 years and now your lil one can experience the electronic fun of a completely upgraded Alphie ($30). When Playskool sent over a modernized version of its learning toy, I felt as if I had been transported through time. The 2010 Alphie looks just like my previous version (with the addition of a convenient carrying handle). Would the robotic pal keep a child of the digital age as captivated as I was years ago? We put it to the test to find out.
Who is this toy designed for? Preschoolers ages 3 to 5 years old.
What sets it apart? The upgraded Alphie has an LCD face that displays the robot's facial expressions and gives him personality. His childish voice is sweet, and his words of encouragement are endearing. The variety of concepts in the included set of 30 double-sided cards — counting, color, letter and shape recognition, matching, animal names, and instrument sounds — keeps the learning fresh. Additional Booster Packs of cards teaching different concepts are available for $10 each.
What could be better? Alphie talks very fast. My son and I frequently found ourselves pushing the button on his head to have him repeat what he said so we could catch what he wanted us to do.
How long did it entertain my child? Over an hour, which is more than I can say for most toys!
Would I buy it? Yes! Both my son and I found Alphie to be entertaining and educational. It's the first toy he reaches for each day, and I even caught him bragging to his friends about his "new robot toy" that "teaches cool things!"
Share your favorite products, toys, and trends with other parents! Start sharing your opinion on millions of must haves for your tots in our Product Reviews group!