Review of Brain Quest Cards
Brain Quest: An Addictive Educational Aid For Moms and Kids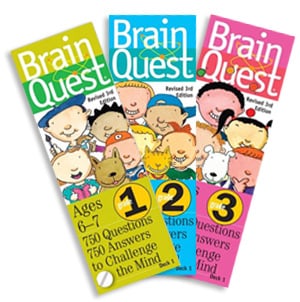 Get your nose out of the books! Everybody and their brother is touting preschool and kindergarten readiness programs, leaving many parents wondering how much prep a tot needs before stepping foot in class. Brain Quest's ($9 each) decks of 300 question and answer cards disguise the learning as language, math, and social skills challenges that have my preschooler begging for "card time" (as we call it) rather than the TV.
Who is this toy designed for? The Brain Quest decks begin at the preschool level and go up to age 13.
What sets it apart?The Brain Quest decks are fun. The three-question-per-card format, animated illustrations, and variety of subjects turn the challenges into a game, rather than memorization. The size of the decks and their grommet closure also make them handy for toting around and using during waits at restaurants, in lines, and in the carpool line.
How long did it entertain my child? I'm usually the one who ends our "play" session due to dinner's arrival or bed time, but we've used them for anywhere from five minutes to 45. Though the questions get progressively harder, my tot loved flipping to the next card to see if he could answer it. We've found them to be the perfect distraction during long waits at the airport too.
Would I buy it? We've already "mastered" the first deck, and I found my son checking the mailbox for the next to arrive. The sets came highly recommended by his preschool director and more than a few friends have caught us doing them on the bus on our way to school each morning.