Review of Disney's New Toddler Princess Sofia
Disney's New Pint-Size Princess, Sofia, Makes Her Debut This Weekend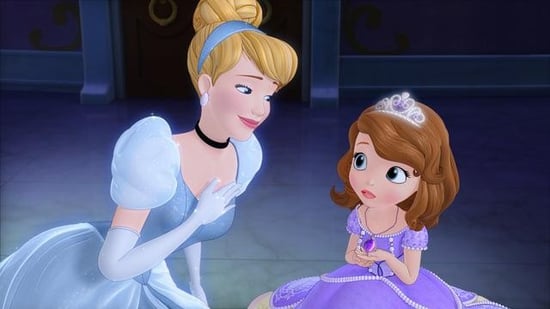 Get ready to meet Disney's first preschool princess. Since the 1937 release of Snow White and the Seven Dwarfs, Disney has churned out 10 princess flicks — some based on history and others based on fairy tales — with grown princesses capturing the hearts of both little girls and grown-ups alike. The most popular and well-known princess by far is Cinderella. So it is no surprise that Disney turned to the beloved character for inspiration for its new, preschool-age princess.
Sofia the First: Once Upon a Princess makes its debut on the Disney Channel this Sunday at 7 p.m. The hour-long movie (the Sofia the First series premieres in early 2013 on Disney Junior) introduces us to Sofia, the young daughter of a single shoemaker who wins the heart of Enchancia's King Ronald II when she makes him the perfect pair of shoes. Upon moving into the castle, Sofia quickly learns that royal life is quite different from what she's used to — with jealous step-siblings (sound familiar?), an evil sorcerer, and more rules of etiquette than she's ever known — and it is the task of some familiar characters like the fairies from Sleeping Beauty and Cinderella to put her on the right path to becoming a real royal.
Ariel Winter (Modern Family), Sara Ramirez (Grey's Anatomy), Wayne Brady, and Tim Gunn bring the characters to life in the music-filled movie that really has something for everyone. For the princess-lover, there are enough royal doings to have tots dreaming of a royal life. For older kids (the movie is geared toward 2- to 7-year-olds) there are the familiar princesses and fairies who have appeared throughout other Disney films. And for parents, in addition to some cute songs, there are some of the actors' catchphrases said throughout the flick, making for some fun inside jokes (yes, Gunn utters his "work it" at least once!). As for the controversy about Sofia's origins? It really doesn't matter where she comes from and doesn't tie into the story at all, so it seems any uproar was just to stir the pot a bit. Because really, lil princess fans just want to see a toddler like them learn to live the royal life, and that's just what Sofia does.