Review of Mamas and Papas Astro Magic Bouncer
Mamas and Papas Astro Magic Bouncer Gets Lil Feet Kicking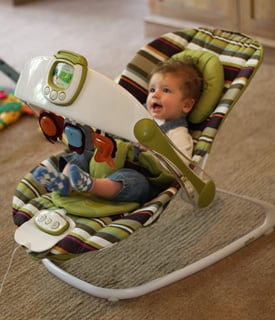 Bounce around! Following our introduction to Mamas and Papas strollers last month, we were excited to get our hands on the British import's adorably sleek Astro Magic Bouncer ($200). The bouncy seat can be used with MP3 players or one of four different entertainment packs ($30 each). With kick-activated light shows and three vibration settings, we were eager to put the chair to the test when the company sent us one to review.
Who is this product designed for? Though it says it is designed for newborns through 6 month olds, it seems more appropriate for infants of at least 4 months who can hold their heads steadily on their own.
Is it practical? The Astro Magic Bouncer isn't a necessity, but it is fun!. Larger than the standard bouncy seat, it is not as portable as its competitors which can easily be moved from room-to-room.
What sets it apart? The extra-large plush seat is like a luxurious easy chair for infants! Its positioning also places tots higher than other seats, allowing curious babies to see the world around them. Best of all, it connects to your iPod, allowing mama to choose the music her lil one listens to, while giving the wee ones the ability to make the music play by kicking their feet on an interactive kick pad. The seat's Toy Bar features a light show that mesmerized our lil tester.
What could be better? The size/portability could be better. It takes up a lot of room, does not fold for travel, and isn't very portable. The seat's height is not adjustable, making it hard to use with newborns. And while it is built with bells and whistles, it is rather pricey for a toy that will only last until a tot can sit up on his own (around six months).
Did it make baby happy? Yes, very happy! Our 5-month-old tester spent a good 30 minutes in the seat and was never bored. In fact, we felt the need to remove him before he did!
Would I buy it? Probably not. It isn't practical, it takes up a lot of room, and it is expensive. However, I wouldn't return it if someone gifted one to me! The Astro Magic Bouncer has awesome features that will entertain a baby, but the chair isn't a necessary addition to the nursery.