Review of PeeWee Pivot 2.0 Computer For Kids
PeeWee Pivot 2.0 Brings Spill-Proof Computers to Lil Programmers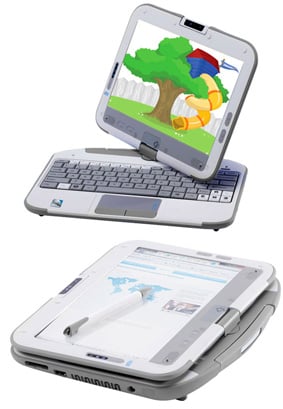 Mama may have a tough time keeping lil hands off her computer, and with the popularity of new tablets like the iPad, it's getting even tougher. There are plenty of laptop-like toys on the market, but kids aren't tricked that easily. Unfortunately, the idea of giving a tot a computer of their own isn't cheap – aside from the initial costs, there's the added ones that come when the laptop drops or has a cup of milk spilled on it. That's why I was excited to get my hands on PeeWee PC's new PeeWee Pivot 2.0 ($575) the kid-friendly PC has been "ruggedized" to make it drop- and spill-proof when kids get a wee bit careless.
Who is this product designed for? The manufacturer suggests that the computer is for tots ages six and up, but a preschooler could navigate his way around it too.
What sets it apart? Prepacked with Windows 7, a 180 degree rotating camera, and a 180 degree swiveling screen, the computer converts into a touch screen tablet with a simple turn of the screen. Preloaded with over a dozen educational games, it also includes PeeWee Patrol and Privacy, two security suites that ensure children are safe online through parental time limits, site blocking, and scheduled screen shots that can be emailed to parents' accounts.
What could be better? At 3.7 pounds, the computer is a bit heavy for smaller tots to carry around, but not too weighty for a parent to carry from room-to-room. Also, the Intel Atom N450 1.66GHz processor is a bit slow, so if your kids are used to playing on mama's keyboard, they can become frustrated with the speed of the machine. But my biggest issue with the PeeWee Pivot 2.0 is the cost. With iPads starting at $500 today, it's hard to justify paying more for a slower computer with a smaller (10.1-inch) screen.
To see how long the laptop entertains a youngster, read more.
How long did it entertain my child? Thrilled to have a laptop of his own (at least for a few days), my preschooler spent about an hour playing the preloaded games on the machine. He even bragged to his friends that he had his own computer. When he got bored of one game, he found another, and after a brief demonstration, he was searching YouTube for videos of his favorite bands.
Would I buy it? Not today. As with most tech items, the price is sure to come down, and when it does, I might consider purchasing one for a birthday so we don't risk breaking the glass on an iPad or iTouch.
Share your favorite products, toys, and trends with other parents! Start sharing your opinion on millions of must-haves for your tots in our Product Reviews group!