Review of Phil and Ted's Lobster High Chair
Phil & Ted's Lobster High Chair Claws Its Way to the Top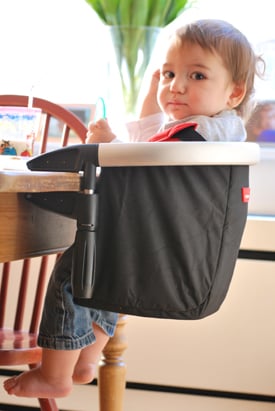 Phil & Ted's MeToo high chair is a favorite in the LilSugar office. It's won our Editor's Choice award because we love its collapsible, space saving features. I was both excited and skeptical when the Phil & Ted's team told us they were introducing a new attachable high chair. What could they improve upon?
It turns out, a lot. The Phil & Ted's Lobster ($80) is a step up from the MeToo. With a wider and deeper seat, thicker aluminum supports, extra-padding throughout, and a removable plastic tray, lil ones no longer have to eat off dirty restaurant tables when the seat is used out of the house. But did it measure up to the original? The company sent me one to test with my 15-month-old, and here's what I thought.
Who is this product designed for? According to Phil & Ted's, the seat holds tots up to 37 lbs, approximately 3-years-old. Weighing about 4 lbs, it is designed as a travel high chair that can be stored in a stroller's under carriage basket.
Keep reading to see if my son sat still and if I'd buy it.
What sets it apart? The Lobster's padded seat, buckle-softening harness covers, and removable tray are unlike any others currently on the market, while its "claws" adjust to accommodate tables from .8 to 3.75 inches thick. The aluminum rod that used to separate the child from the table has been replaced with fabric, eliminating the gap that was ripe for falling food. The plastic covered knobs used to turn tighten the claws are significantly easier to turn than those on the MeToo. And the included carrying case is a nice addition to the set. It's also easy to see why the seat can accommodate larger tots, as it is deeper than the one on the MeToo.
What could be better? Unfortunately, the removable tray can be moved by adults and tots alike. On more than one occasion, I found myself chasing after a tray being flung on the floor. I wish there were actual grooves that the tray slid into, rather than simply resting between the claws. Also, the padded covers that hide the harness adjustments are a great addition, but if they snapped off for cleaning, they'd be even better!
How long did my child sit in it? That cushioned seat must be comfy, because he didn't complain about his place at the table for the entire 45 minutes during which we ate.
Would I buy it? Yes. I love my Phil & Ted's MeToo, and would probably keep that one under my stroller because it weighs less at 2.2 lbs., but I'd keep the Lobster permanently attached to my dining table.
Share your favorite products, toys, and trends with other parents! Start sharing your opinion on millions of must-haves for your tots in our Product Reviews group!