Review of Plum Dispensing Spoon by Boon
Plum Dispensing Spoon: One Handed Feeding Solution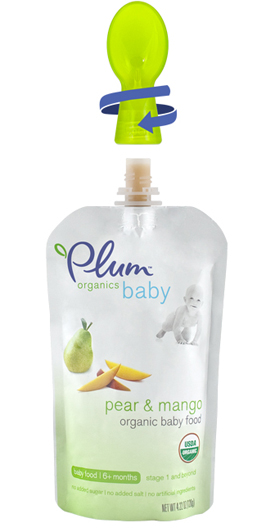 Feed your baby with one arm tied behind your back? You can do that! When lil ones are first introduced to solids, moms can spend most of the meal batting their hands away from the oncoming food and ending up with a lap full of pureed veggies. Using their experience with the Squirt Dispensing Spoon, Boon has teamed up with Plum Organics to introduce the Plum Dispensing Spoon ($4 for two), a set of two BPA and phthalate-free spoons that attach directly onto squeezable pouches, to allow for one-handed feeding. The company recently sent us a set to try out.
Who is this product designed for? The spoons are ideal for busy moms of infants who are starting solid foods.
Is it practical? Yes. The spoon twists onto any pureed food pouch (not just Plum Organics) in a matter of seconds and eliminates the need to dirty a bowl when feeding a tot. Once baby is done, the spoon is easy to clean and dishwasher safe.
What sets it apart? The Plum Dispensing Spoon is the first of its kind.
What could be better? I wish the actual distance from the stem to the bowl of the spoon was longer, allowing parents to place it further into the lil one's mouth, and at more of an angle. At the current length, I felt like the pouch (which came from a dirty store shelf) was too close to my tot's lips.
Would you buy it? Yes for on the go feeding and traveling it eliminates the need to pack bowls. At home, I would stick with my regular baby spoons.
Would you give it as a gift? It would make a fun gift, along with a few pouches of food for a mom who is introducing solids for the first time.