Review of SnoozeShade Stroller Blackout Shade
SnoozeShade Stroller Blackout Shade: Kid Friendly or Are You Kidding?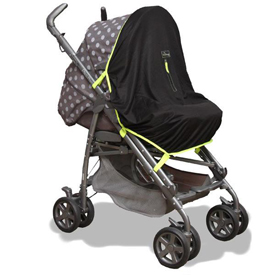 Take baby on a springtime stroll! With the warmer weather, more mamas are finding themselves outside during their lil ones' naps. Creating a dark environment to encourage the tot to sleep often requires securing a blanket to the stroller or hanging mama's coat over the pushchair's hood – creating a dark, but warm rest space. The SnoozeShade ($35) creates blackout conditions (blocking 94 percent of light) and a UPF 50, well-ventilated area for tots to rest. The cover's front zipper gives mom the ability to peek in on her sleeping child without waking them from their slumber. Would the SnoozeShade work for you?