Review of Tommee Tippee Breast Pump
Single or Double: How Did You Pump?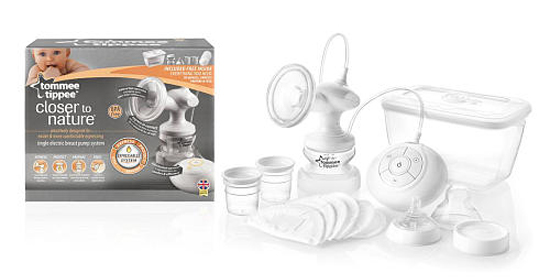 Pumping was never an activity I excitedly jumped into. It was more of a necessity that I tried to complete as quickly as possible. In fact, I kept mental track of how quickly I could empty each breast and raced against my previous times each time I sat down to do the task. That said, I learned to appreciate a good, efficient pump that not only got the job done, but did so comfortably.
So I was excited when Tommee Tippee announced the introduction of their breast pumps in the US. I'm a fan of their bottles and sippy cups, and thought their pumps would incorporate their best features. And they did. The Tommee Tippee Closer to Nature Single Electric Breast Pump System ($150) has soft silicone shields (just like the nipples on their bottles) that are comfortable, and don't dig in like plastic versions. The shields are ribbed to mimic a baby's hand massage, and they attach directly to the bottles for convenience sake. Best of all, they come with two two-ounce "protection pods" that fit right into the bottles – meaning if you can't express enough milk to fill the bottle, the little pods can be removed for freezing.
But what struck me as odd, was that Tommee Tippee has only introduced single pumps, both manual and electric. As someone who tried to get in and out of a session fast, I wanted to express on both sides at the same time. Did you?