Rielle Hunter Talks to GQ About John Edwards
Do John Edwards' Actions Make Him Less of a Daddy?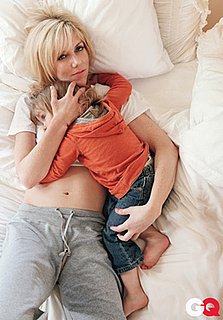 To say that John Edwards surrounded himself by loyal women is an understatement. He recently added one more to the mix by acknowledging his paternity of 2-year-old daughter Quinn with Rielle Hunter. The former vice presidential candidate who rode largely on the ticket of being a "family man" had the public support of both his wife and mistress when news of the love child surfaced. Elizabeth Edwards went so far as to say that she creates a picture of him for their three children — Cate, Emma Claire and Jack. The couple has since separated.
Now, in a recent and eye-opening interview with GQ, Rielle Hunter (who John initially denied involvement with) is singing his praises as she speaks out for the first time. When asked why she remained silent until now, Rielle said:

I feel comfortable talking now, because Johnny went public and made a statement admitting paternity. I didn't feel like I could ever speak until he did that. Because had I spoken, I would have emasculated him. And I could not emasculate him. Also, it is not my desire to teach my daughter that when Mommy's upset with Daddy, you take matters into your own hands and fix Daddy's mistakes. Which I view as one of the biggest problems in all female-and-male relationships.
Despite the chaos of the last few years, Rielle is committed to loving John. This begs the question does a man's actions (however dishonorable), affect his abilities as a dad?
Photo Credit: Mark Seliger/GQ