Rifle Paper Co. Kids' Party Invitations
Line We Love: Rifle Paper Co.'s Party Invitations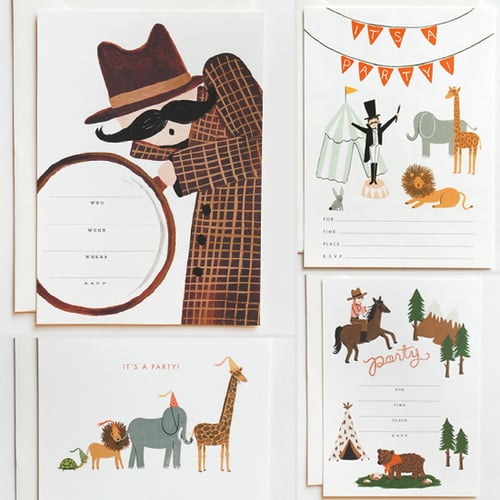 We're longtime fans of Rifle Paper Co.'s dreamy, whimsical illustrations, which have appeared everywhere from Martha Stewart Living and Lucky to some of our favorite websites and even in one of our POPSUGAR Must Have boxes. You'll also find artist Anna Bond's work in stylish shops like Paper Source and Anthropologie. While Rifle is known for adorable cards, stationery, and notepads, many of which feature lovely little flowers, animals, and other fanciful drawings, we just recently discovered the brand's line of children's party invitations. Not only are the sweet illustrations adorable on their own, but we love how they can also serve as an inspiration for a party theme! Cards featuring a sly detective, a happy circus, cowboys, and party animals (all shown above) would make a great jumping-off point for an inventive party, while the dots and balloons invitations would work for any affair. We also love that some of the invites have matching cards, perfect for postparty thank-you notes.
Each design comes in a box of 10 write-on cards ($18), and Rifle Paper Co.'s cowboy, Francis the Bear, and party animals designs are also available in a printable version. If you're like us and you can't get enough of Anna's creations, also check out her kid-friendly prints, more enduring Rifle creations that would add a dose of whimsy to any kid's room.
Source: Rifle Paper Co.