The Right Amount of Weight to Gain During Pregnancy
What's Normal Pregnancy Weight Gain?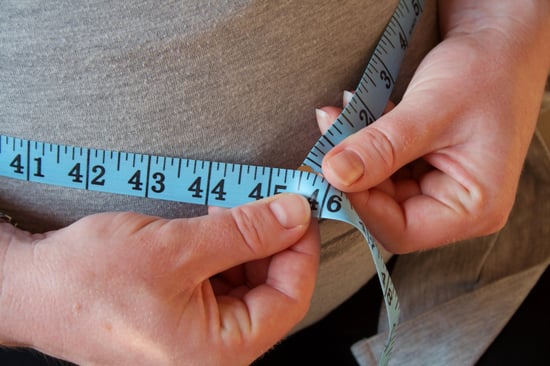 It used to be that everyone said you should "eat for two" when pregnant, but today we're told that this is not necessarily the best way to look at it. So what's normal and healthy when it comes to pregnancy weight gain?
Here, we've rounded up stories about pregnancy weight gain from moms in the Circle of Moms communities. Find out what to expect trimester by trimester.
Keep reading.
Personal Experiences
Just as there's a range of body types and eating patterns out there, some moms-to-be experience major weight gain, while others actually lose weight, with the vast majority falling somewhere in between.
While some moms put on 60-plus pounds over the course of being pregnant, most of us end up with a range of 15 to 40 additional pounds. The amount of weight you should gain during pregnancy is typically related to how much you weighed before pregnancy. As WebMD explains, "A woman of average weight before pregnancy should gain 25 to 35 pounds during pregnancy. Underweight women should gain 28 to 40 pounds during pregnancy. Overweight women may need to gain only 15 to 25 pounds during pregnancy."
In some rare cases, women who are overweight prepregnancy will lose weight throughout their pregnancies. For example, Peggy A. shares that her doctor assured her that little or no weight gain was a normal thing for someone her size. "I haven't gained anything yet," she says. "I'm a bigger girl, and the doc isn't worried about it at all. I am almost 32 weeks and have for the past month and a half been losing around one to three pounds a week."
Food Choices and Cravings
It's a lot of pressure — knowing that every single thing you put in your body for about 40 weeks will affect your baby, good or bad. Sometimes it's enough to make you really change your eating habits. For moms like Jackie, eating healthy food helped her keep her weight gain right in the normal range (about 30 pounds). "I've never eaten healthier in my life than when I was pregnant. [I] quit soda, ate lots of fruits and veggies, only ate wheat bread and wheat pasta (which I now like more than white bread and regular pasta). There were a few days at work where I ran across the street to McDonald's [and] I remember apologizing to my belly."
Cravings can play a major part in the food choices you make, and in turn your weight gain. Many women crave sweets, like Kristen M.: "I am craving pecan pie! I eat it straight from the pie pan. I have a feeling that I will be gaining more than I need to!"
Katie G. found that each pregnancy is different, and her second seems to be all about starches. "I crave anything potatoes. Baked potato, potato soup, mashed potato, you name it I want it." Kristen B. admits that her craving for candy bars is, according to her husband, more like an addiction. But she tries to keep it in check by limiting her sweets to one per week: "With Milky Ways, I need to eat at least one by myself [per] week."
Weight Gain by Trimester
First Trimester
You may find that weight gain is not steady throughout pregnancy, that it speeds up and slows down depending on what stage you are in. During the early months, many moms worry about the effects of nausea and vomiting on their weight. Yanela C. says she lost six pounds by the time she was 10 weeks pregnant: "I have not thrown up. But unfortunately, my nausea keeps me away from food a lot."
As long as your baby is developing at a healthy rate, rest assured that the effects of morning sickness will eventually give way to weight gain. LauraBeth L. found that the pounds came on during her second and third trimesters. "I have been so sick that I have lost two pounds, but I was the same with my first. I lost 10 pounds in the first six months and then, bam, I put on 40 pounds."
Second Trimester
When the baby bump finally arrives, some women see only a few extra pounds on the scale. Stacy V.'s doctor reassured her that this is normal: "I am 24 weeks and and have gained only three pounds, I have tried drinking Ensure and everything. My doctor told [me] that our son is bigger than average for how far along I am and there is nothing to worry about."
During the second trimester, many moms find that their doctors' primary concern is their baby's weight and measurements. Alicia I. shares that her doctor assured her "as long as the baby is growing and your uterus is growing the way it ought to, it should be fine."
As Stefanie W. says, even for moms-to-be who are slow to put on the pounds, the weight gain does eventually arrive: "I gained 2 1/2 pounds the first 20 weeks of my pregnancy. I'm 24 weeks now and am up to 7 1/2 pounds heavier. So, in four weeks I've gained five pounds."
Third Trimester
LaToya F. experienced what many moms do — that the final trimester is when you really pack on the pounds. "I gained about 40 pounds with my first, and it hit me all in the last three months of pregnancy." As long as the weight comes slowly, about a pound or so per week, you should be right on track.
If you've already put on more weight than recommended by the time you reach the third trimester, your doctor may encourage you to watch portions and eat as healthily as possible. Amber S. found that eating her carbs and protein early in the day and curbing her intake of carbs and empty calories after 4 p.m., when her body stopped processing efficiently, helped. "I find that if I eat veggies strictly after say, 4 or 6 p.m. then I do a lot better."
The best source of advice on weight gain during your pregnancy (including rapid, drastic gains or losses) is going to be your own OB/GYN. Ask your doctor for guidance, put the brakes on dieting, which generally isn't safe for you or your baby, and focus on eating well and staying healthy.
The preceding information is for educational purposes only. For specific medical advice, diagnoses, and treatment, consult your doctor.
The views expressed in this article are those of the author and do not necessarily represent the views of, and should not be attributed to, POPSUGAR.