Robert Kwak of Muu Interview
The Dad Behind the Furniture: Robert Kwak of Muu Interview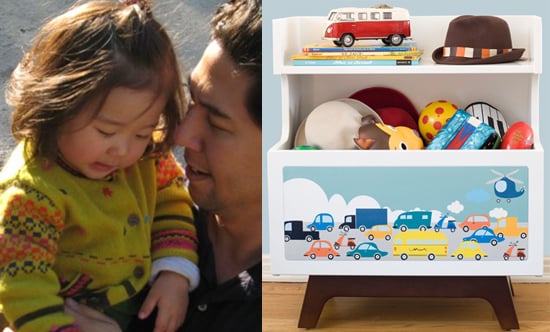 Nurseries aren't just unicorns and rainbows for Robert Kwak, they're more cherry blossoms and boom boxes. The woodworker and soon-to-be father of two came up with the concept for Muu (pronounced Moo), his modern sustainable furniture company, as an expectant parent. The name is a zen term for the stage right before enlightenment and is appropriate since Kwak's designs have changed the way moms and dads think about tot decor. Muu offers families customization without commitment. Kwak isn't interested in mass production, instead he "makes things people are going to love and hold onto for a long time." We recently had a chance to chat.
LilSugar: There have been numerous crib recalls. Can you speak to if/why buying well-made furniture is important?
Robert Kwak: When we were starting the concept (of Muu) we talked to manufacturers all over the world, but ultimately we wanted to (have our goods) be (made) here in the United States for a number of reasons. One is quality, the people who make our furniture — it's a family-run business. We know them on a personal basis. And I think that going back to the concept of Muu, it's important for us to know the people who make our products both for the quality and safety issues. They use our products, we use our products, and we're not just trying to make (them) cheaper, faster, and quicker so it costs more to do more. A lot of children's products are inherently disposable and by buying something that is built to last, you can pass it on from one child to the next or it can grow with your child. It's an important aspect of sustainability and people talk about material sourcing, which is very important. We definitely strive to continue to make our products more "green," but I also think a larger part of the sustainability story is making it in a way that's not just going to be used for a couple years and just sort of thrown away, thrown in the dumpster and seen in a landfill.
To see if Muu plans on bringing its fine design to the mass retailers, read more.
LS: A lot of higher-end companies now partner with retailers like Target or Walmart to bring their products to the masses. Do you have plans to do that?
RK: Well no. I think if you can bring really good design to more people and make it not just an elite thing then that's great as long as you're not sacrificing your core values. If you're making products that are consistent with what you value then I think that's great. As long as you feel like you're not justifying the quality or sacrificing sustainability. And, I think that making design more accessible to people is really important.
LS: Especially to expectant parents?
RK: Right. So much about parenting is also about digging into your own childhood for your own experience and so much of creating a nursery is also inspirational. You are putting a lot of things in your child's room that potentially reflect the values that you have and the values you want to impart to your children. Actually, that was very much how this whole process came (about) because we started shopping for the nursery and the more (we) thought, here we (were) doing something incredibly personal. We were creating a nursery and the child is so special. You see all this stuff and then see that everyone you know has the exact same stuff and they all shop at the exact same source. You're kind of like well, how special, how personal, how unique is it when like everything in this room is in your friend's house and their friend's house? That was sort of the genesis of the idea for Muu.