Rosh Hashanah Apple Print Place Mat Craft For Kids
Awesome Apple Place Mats — Just In Time For Rosh Hashanah!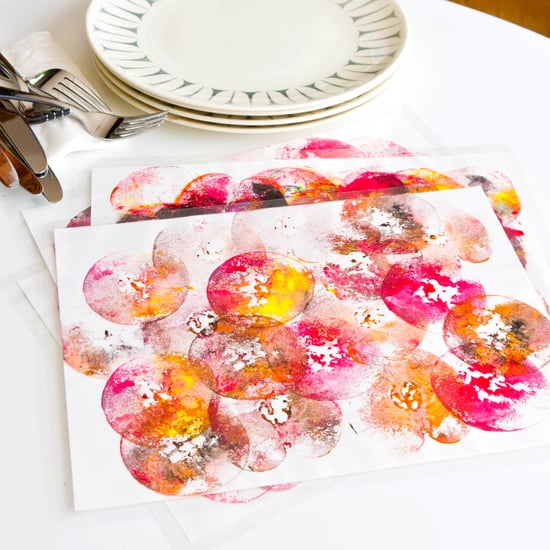 Create colorful apple prints that turn into something really special for your Rosh Hashanah celebration. After stamping away with your lil one, have the finished prints laminated to create special place mats for your family's feast! Along with ushering in the New Year, this craft celebrates the Autumnal Equinox with the naturally beautiful shapes, patterns, and colors found within a cut apple. Gather a few apples, and get ready for tons of print fun!
Keep reading for the super simple directions!
What You'll Need:
White paper
Apples
Tempera paints
Paper towels
Directions:
Start by slicing an apple in half through the middle, revealing the star of the core. Invite your lil one to take a closer look and count the points of the star as well as any seeds she might see. You can also cut another apple in half, top to bottom, and check out how the core looks differently.
Invite your child to select a few colors for creating the apple prints. Go with traditional Fall colors such as red, yellow, and orange, along with pops of green or purple.
Fold a paper towel in half and then squeeze a dollop of each color of paint onto the paper towel to create a stamp pad for the apples.
Offer your child a sheet of white paper along with the sliced apples and the paint-filled paper towel. Now your lil one can press an apple, sliced-side down, onto the paint and then stamp onto the white paper. Continue pressing and stamping until the paper is full of apple prints.
Make enough apple prints so each person in the family has a place mat, adding more paint as needed. And if your lil one is having tons of fun, then keep making prints to give to friends and family on Rosh Hashanah!
Once the prints have dried, take them to your local office supply store and have them laminated.
Trim the edges of the laminated prints to create the finished place mats.